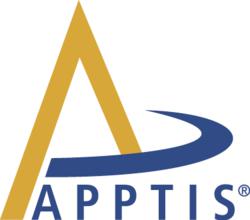 Chantilly, VA (PRWEB) May 09, 2011
Apptis, Inc., a leading provider of essential IT and communications services to key Defense and Civilian agencies, today announced that along with University of Maryland University College (UMUC), it has committed to the establishment of the Apptis Wounded Warrior Scholarship Fund in support of UMUC's Cybersecurity Program.
The scholarships will be awarded to Veterans that have sustained injury or suffer illness related to their military service, as well as to their spouses and dependents of injured Veterans. It is expected the Apptis Wounded Warrior Scholarship Fund will award up to 20 individual scholarships to worthy Veterans or family members each academic year. The awardees of the scholarships must be pursuing a UMUC Bachelor of Science in cybersecurity or a UMUC Master of Science in cybersecurity or cybersecurity policy.
Army Veteran and Apptis President and COO Skip Nowland said, "It is an honor to establish this scholarship fund along with UMUC in support of our country's Veterans. Cybersecurity continues to be a real and growing concern throughout the world and we are dedicated to helping build the next generation of cyber warriors to combat this threat."
"We are extremely pleased to support the scholarship fund for the UMUC Cybersecurity Program and proud to have the opportunity to support this distinguished group of Veterans and their deserving family members," stated Jim Barrineau, Apptis Vice President for Strategic Cyber Initiatives, a 27-year Army Veteran.
UMUC launched two master's degree programs and a bachelor's degree program in Cybersecurity in the fall of 2010, and added three certificate programs this past spring. To date, more than 2,000 students have enrolled in these programs, which are delivered completely online and were developed with direct input from a team of today's leading cybersecurity experts.
UMUC President Susan C. Aldridge said, "We are deeply grateful to Apptis for its generous support of our veterans and their families and tremendously proud that it has chosen to channel that support through UMUC's cybersecurity program, which offers great professional opportunities while also responding to critical security needs in business, government, and the military."
For more information on how to apply for the Apptis Wounded Warrior Scholarship, please visit http://www.umuc.edu or call 1-800-888-8682.
About University of Maryland University College
University of Maryland University College, headquartered in Adelphi, Maryland, is the largest public university in the United States, serving 90,000 students and offering 130 undergraduate and graduate programs online and on-site. In addition, UMUC is one of the largest public providers of online higher education in the nation. UMUC boasts a 60-year history of service to the military and currently enrolls an estimated 50,000 military service members, Veterans, and their family members each year. The university offers face-to-face instruction at 21 locations throughout Maryland and educational services in 28 countries and more than 150 locations worldwide, including the Middle East. UMUC is accredited by the Commission on Higher Education of the Middle States Association of Colleges and Schools and is a constituent institution of the University System of Maryland, an agency of the State of Maryland.
About Apptis
Combining deep experience in federal government with expertise driving the latest innovative technology advancements, such as Cloud Computing, Apptis has been delivering mission critical IT and communication solutions to federal agencies for over 20 years. Apptis defines, optimizes, and implements IT solutions that help our clients achieve their mission. Core capabilities include Software & System Engineering, Enterprise Management, Network Engineering, Integrated Cyber Solutions, and Program Management. Our accomplished IT professionals deliver mission critical IT and infrastructure services around the world anytime, anywhere. Proven. Trusted. Secure. Apptis is privately held with headquarters in Chantilly, VA. http://www.apptis.com
# # #