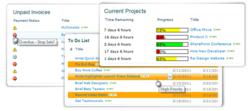 We wanted to give SharePoint super-users and administrators a whole visual indicator tool kit for their lists and libraries.
Chelthenham, England (PRWEB) May 06, 2011
Microsoft SharePoint specialists Pentalogic Technology are pleased to announce the release for sale of the latest in their stable of SharePoint tools – SharePoint Highlighter.
SharePoint Highlighter is a custom column, which can be added to any SharePoint list or library to create a range of visual effects including highlighting, color coding, icons, progress bars and countdowns.
"The success of any SharePoint deployment is all about getting the people to use it." says Pentalogic CTO and founder Ryan Wheeler "Lists are the building blocks for SharePoint – but for the end user, the experience of a SharePoint list isn't especially inspiring. Compared to many of the User Interfaces we look at every day – like a Google Search, or a Facebook Wall, or even an Outlook calendar – a SharePoint list can look dull and even daunting. And if something looks dull or daunting, chances are people won't want to use it"
"It can be difficult for the user to figure out exactly what they are supposed to be doing with a list or library, and pick out the relevant information." says Wheeler, "So SharePoint Highlighter provides a range of tools to add interesting, colourful and informative visual indicators and effects to SharePoint lists."
"There are masses of different ways that you could use Highlighter." Wheeler continued "You could start on a helpdesk or customer support issues list and simply highlight high priority issues in red. Set it up as a KPI column, with different flags to indicate KPI's exceeded, missed or at risk. Use the dynamic highlighting functionality to highlight tasks assigned to [ME] or an item that needs action [Today]."
"We wanted to give SharePoint super-users and administrators a whole visual indicator tool kit for their lists and libraries." Explains Wheeler. "We looked at the competition and saw a lot of one trick ponies. Products that just did one thing, only worked with one kind of column or list, or were really restrictive on customization options. Highlighter gives the customer the flexibility to use it on any list or library, it can pick up information from any type of column and the customization options are endless. This gives customers the ability to use Highlighter in numerous different situations, throughout their SharePoint deployment."
"Having put so much in to Highlighter we had to also put a lot of thought into the configuration interface." explained Project Lead, Stuart Pegg "Flexibility often goes hand in hand with complexity and we didn't want a set up panel which would completely bamboozle the users. We put a lot of time in to building a wizard which handles many common scenarios semi-automatically. We won't know whether we have really succeeded in keeping Highlighter easy to use until some paying customers get their hands on it. But we had no complaints on this score from our beta testers, and internally even the marketing department are managing to use it without too many problems – so that seems like a good sign!"
Highlighter is released for sale today. There is a free 30 day trial available to download from the Pentalogic website and the retail price for a single server license is $995.
About Pentalogic Technology
Pentalogic Technology is a privately owned and managed company based in Cheltenham England. Pentalogic build software for use with Microsoft SharePoint. Pentalogic's products are designed to enable SharePoint users to build rich applications in SharePoint, without the need for assistance from developers.
Founded in 2005 Pentalogic are one of the longest established companies in their marketplace. Pentalogic's developers have worked with SharePoint since its very earliest days.
Pentalogic's simple but powerful SharePoint tools are used by organizations around the world to enhance the functionality of SharePoint.
# # #