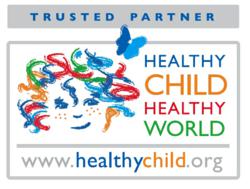 We're thrilled to be able to recommend Topricin to parents who want safe, effective, healing products that are safe for their children's health and better for the environment.
Rhinebeck, NY (PRWEB) May 06, 2011
Topical BioMedics, Inc., headquartered in Rhinebeck, NY, announces that Topricin Junior® pain relief and healing cream for children has been designated a Trusted Partner with Healthy Child Healthy World in its continued effort to empower parents in creating healthier, safer environments for children.
As the nation's nonprofit leader in educating the public about preventing children's exposure to harmful chemicals, Healthy Child Healthy World only partners with companies offering superior products that meet their high quality standards and demonstrate a long-term commitment to their mission by contributing financially and endorsing the Coalition for Environmentally Responsible Economies (CERES) principles of corporate environmental conduct.
"We're thrilled to be able to recommend Topricin to parents who want safe, effective, healing products that are safe for their children's health and better for the environment," said Rachel Sarnoff, Interim Executive Director/CEO of Healthy Child Healthy World.
"At Topical BioMedics, our mission is to educate people so they can make well informed health choices for their families, while offering them a safe, natural, proven approach to relieving pain through enhanced healing," says Lou Paradise, president, chief of research, and product inventor. "We are excited that our new partnership with Healthy Child Healthy World will enable us to reach a wider spectrum of concerned parents and everyone concerned about the health of our nation's children and teach them that there is an alternative new standard to dangerous, over-the-counter chemical-based pain pills, and eliminate this form of chemical toxicity."
Brand-name chemical pain pills containing the active ingredients acetaminophen, ibuprofen and naproxen have serious and potentially deadly side effects and topical ointments with menthol, camphor, and other counter-irritants are not without side effects. Because all of these products work against the body's natural healing chemistries they actually shut the healing process down. At the same time, they turn the pain signal off—which only temporarily masks the problem. And, because the cause of the pain is not addressed, it grows worse.
Equally alarming is the fact that during the past year and a half the country's largest manufacturer of chemical-based pain pills has been subject to massive waves of product recalls for contamination, bacteria, foul odor, and incorrect high dosage instructions on the labels of products for adults, as well as products formulated for infants and children.
"Parents have peace of mind using Topricin Junior for treating their little ones' aches, pains, injuries, bug bites, and skin conditions such as eczema," says Paradise. "Formulated with a combination of homeopathic biomedicines in an odorless, greaseless, soothing cream base, Topricin Junior helps stimulates the body's desire to heal the damage that is causing pain—without parabens, petroleum, or other harsh chemicals, and with no known side effects. It is the safest new standard. And as part of our human advocacy, 5% of the sales of Topricin Junior are donated to pediatric cancer foundations.
"A recent policy statement from the American Academy of Pediatrics said the U.S. needs to do a better job protecting children and pregnant women from toxic chemicals, and we couldn't agree more. Our products are safe for pregnant and nursing women and children age two and up, and can be used on children under age two with doctor's permission."
Other products in the company's line include their flagship Topricin original formula—which has been awarded a patent for the treatment of pain associated with fibromyalgia and topical treatment of neuropathy—and Topricin Foot Therapy Cream that targets painful foot and ankle injuries and nerve-related conditions. All Topricin products are made in the U.S.A., safe for diabetics, and offer safe pain relief for the entire family.
For more information about Topricin Junior visit http://www.topricinkids.com. For detailed information about the company and its full line of products visit http://www.topricin.com.
About Topical BioMedics, Inc.
Founded in 1994 and headquartered in Rhinebeck, NY, Topical BioMedics, Inc., is the leader in the development of non-analgesic, non-chemical topical regulated natural medicines for pain relief, with products that effectively treat a wide range of painful ailments.
Topricin products are available in pharmacies, natural food stores, and other fine retailers nationwide, including Whole Foods, Vitamin Shoppe, Vitamin World, Fred Meyer, Wegmans, and other retail stores, as well as direct from Topical BioMedics. For additional information or to find a store near you, visit http://www.topricin.com.
About Healthy Child Healthy World
Healthy Child Healthy World is a national, nonprofit 501(c) 3 organization that inspires parents to protect young children from harmful chemicals. The organization exists because more than 125 million Americans, predominantly children, now face an historically unprecedented rise in chronic diseases and illnesses such as cancer, autism, asthma, allergies, birth defects, ADHD, obesity, diabetes, and learning and developmental disabilities.
Credible scientific evidence increasingly points to environmental hazards and household chemicals as causing and contributing to many of these diseases. Healthy Child Healthy World aims to educate parents, support protective policies and engage communities to make responsible decisions, simple everyday choices and well-informed lifestyle improvements to create healthy environments where children and families can flourish. Please visit http://www.healthychild.org for more information.
For inquires, please contact Michelle Jue (michelle(at)healthychild(dot)org), telephone 310.820.2030 ext. 314.
###