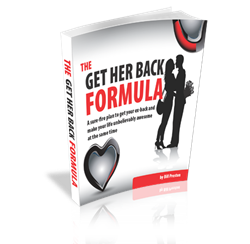 "This book truly is life changing. I'll tell you a little secret, this book is about getting your ex-girlfriend back, but in the process, you will change your life."
New York, NY (PRWEB) May 10, 2011
Men wallowing in heartache are turning to a new book and a new method of getting over a break up and getting their ex-girlfriend back. This method, called the Get Her Back Formula gives men the tools they need to win back their ex-girlfriends and become better men in the process. The men who have used this system say it has given them a new zest for life.
"This book truly is life changing. I'll tell you a little secret, this book is about getting your ex-girlfriend back, but in the process, you will change your life," says author Bill Preston from http://www.puaforums.com. "At the end of this book, if you don't have your ex-girlfriend back it's because you have come to the conclusion that you don't want or need her back.
Unlike some books who cater to jerks and use tricks to try to win an ex back, The Get Her Back Formula shows men how to focus on themselves and what truly makes them happy in order to win back love. It gives tried-and-true, hands on tactics to get her back, even when the situation appears completely and utterly hopeless. Nothing is worse than feeling downtrodden and heartbroken after a breakup, but the Get Her Back Formula can replace all the black emotions of a breakup with hope and a renewed sense of what is important in life.
When our hearts are broken, we feel a range of emotions that can often seem devastating. It is normal to feel these ways (with the exception of serious, clinical depression) and it is not uncommon. This book is exactly for men who have experienced the following symptoms after a break up or had similar emotions, such as these? This new program can help address some of the common consequences of breaking up:
-Being utterly terrified she's out having fun with another man.
-Feeling that he lost his one shot with the perfect girl and can never find someone like her again?
-Spiraling into depression and feel hopeless.
-Men who spend hours wishing they could make her fall back in love with him and understand how he feels about her.
-Guys who find themselves endlessly rehearsing what he will say to her to win her back.
-Men who are constantly losing control of their thoughts, emotions and even actions because of the breakup.
All of this will be addressed as men read this book and learn how to get an ex back. Other information shared in this method includes how a guy can quickly become the type of man she really desires, the right way to re-spark her attraction while maintaining his dignity and how to avoid another break up he is back together. Find out more at http://www.thegetherbackformula.com/.
# # #