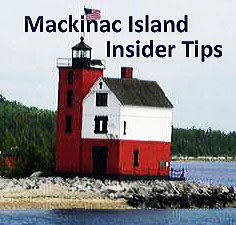 In 1875, Congress declared that Mackinac Island was a place so rich in history and natural beauty that it was worthy in being our 2nd National State Park.
Mackinac Island, Michigan (PRWEB) May 17, 2011
Kathy Petersen and Marcia Dunnigan of Insider Tips Inc., founders of the popular Mackinac Island Insider Tips website, explains why the Three Premier State Parks that can be found on Mackinac Island and in Mackinaw City, Michigan are so wildly popular not just with Michigan residents but, with tourists around the world bringing over a million people to the Straits of Mackinac each year.
To begin their history lesson they interviewed Phil Porter, the Director of the Mackinac State Historic Parks (MSHP). What they uncovered was a history lesson in and of itself. As Mr. Porter explains, "The Mackinac State Historic Parks are comprised of three parks and a total of 6 living history museums. This means that people who visit these places don't just learn about history they experience it. When you add the beauty of the land throughout the Straits of Mackinac where Lake Michigan and Lake Huron meet you have a breathtaking State Park system that rivals all others in our Nation. There is a wide variety of experience for people to enjoy at any of these three State Parks."
Here are just a few of the highlights of what people to the area can experience.
Mackinac Island is a small 4-mile square Island of which 80% is parkland, which originally was the Nations second oldest national park and was established in 1875. In 1895, the park was turned over to the State of Michigan, creating Mackinac Island State Park the first and oldest of all the Michigan State Parks. What makes this park so unique is that from the moment you step off the ferry that arrives from either Mackinaw City or St. Ignace you are transported back in time. This is an Island where the horse is king and no automobile traffic crowds the paved streets since motorized vehicles were banned in 1898.
Mackinac Island itself has a fascinating and colorful history as a visit to Fort Mackinac reveals. Visitors to this living history museum can learn a little about both Michigan's and the Nation's history as well as about the fort itself while enjoying a variety of demonstrations from bugle and fife music to cannon firings. The Island also offers those who love architecture one of the largest collections of pre-1850 buildings in the United States. These historic buildings are the 1780 officer's stone quarters at Fort Mackinac and the state's oldest residence the McGulpin house (1780), the state's oldest hospital (1828) and the state's oldest church (1829).
Marcia Dunnigan offers this advice, "Stay the night on this magical Island. You really can only sense the history and surreal beauty of Mackinac after the many thousands of tourists leave on the last ferry off the Island. The park offers hiking, biking, horseback riding and exploring to one's hearts content which really takes more than a short day trip to enjoy. For the more cultural minded tourists a trip to the Richard and Jane Manoogian Mackinac Art Museum should not be missed."
Mackinaw City on the mainland is the home of two of the Mackinac State Parks: Colonial Michilimackinac and Historic Mill Creek Discovery Park.
At Colonial Michilimackinac guests can not only experience for themselves what life was like during the early fur trading years in Northern Michigan but, can view a multitude of artifacts from the Nation's longest running archeologists digs or enjoy a variety of demonstrations put on by the "British" soldiers and early "American settlers" to the region.
For those who want to continue the adventure, Historic Old Mill Creek Discovery Park offers live demonstrations of a water powered saw mill, the chance to become a lumber jack for a few minutes or take part in the parks Adventure Tour where you can ride a zip line, take your turn at the climbing wall, or walk a forest canopy high above the tree tops. For the less adventurous, the park also offers an assortment of hiking trails.
What truly sets these parks and museums apart from most other places is the opportunity to not only view history but to come face to face with what life was like a 100 or 200 years ago. Kathy Petersen explains, "The State Parks and Museums that Mackinac Island and Mackinaw City have to offer attract so many people from across the nation and around the world because they offer travelers a chance to have an adventure rather than simply look at artifacts from times gone by. Who doesn't love an outdoor adventure?"
One of the things that make a visit to the Mackinac Island and Mackinaw City area so exciting is that many of the places that offer lodging also provide a feeling of history. Mackinac Island hotels offer old-fashioned turn of the century bed and breakfasts to the opulence of the Grand Hotel and everything in between. Of course, for those who want to commune with nature there is the popular Wilderness State Park near Mackinaw City where you can enjoy camping on the shores of Lake Michigan.
The Mackinac State Historical Parks and the 6 living history museums provides a rare chance to experience history in way that is truly unique. They also provide families a true all-American Midwest dream vacation. There is also an ever-changing variety of activities going on at these locations as well, which make people want to visit again and again. For more information on these parks and museums or to learn more about the various special activities presented, visit http://www.Mackinac-Island-insider-tips.com.
# # #