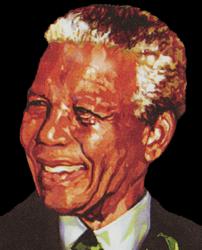 Friedlander suggests that, for the first time in recent memory, a United States administration has finally approached Nelson Mandela's high standards of leadership and moral authority⎯and has shown the courage to make a difficult decision.
Los Angeles, CA (PRWEB) May 10, 2011
In the aftermath of the raid on bin Laden's Abbottabad compound, Michael Friedlander, author of "Detecting the Scam: Nelson Mandela's Gift," thinks he sees unmistakable signs of Nelson Mandela's ghost wafting its way through the White House and our security and political establishment.
Friedlander suggests that, for the first time in recent memory, a United States administration has finally approached Nelson Mandela's high standards of leadership and moral authority⎯and has shown the courage to make a difficult decision. Friedlander asks whether we might expect more of the same of our political leaders as they address upcoming economic issues? He also asks when we might expect the same of our financial and academic leaders?
In a recent article, Friedlander describes qualities that made Nelson Mandela such an iconic figure. He focuses on Nelson Mandela's extraordinary leadership and patience; his decision-making process; his remarkable common sense, and his courage not just to confront his enemies, but also to confront those on the extreme wing of his party. Finally, Friedlander notes Nelson Mandela's determination always to seize and hold the high moral ground.
In the same article, as he applied these qualities to events leading to the bin Laden raid and to its aftermath, and as he applied them to Donald Trump's recent foray into the "birther swamp," he reached two conclusions. The first was that President Obama and his national security team would have made Nelson Mandela proud⎯as would the bipartisan support the President received. The second was that, "Donald Trump, in venturing into the birther swamp, displayed none of those qualities⎯which might account for his shrinking stature and standing as a political force."
Friedlander also notes how the approach to the bin Laden raid and aftermath was so different to the decision-making process leading up to the Iraq war. While President Obama and Nelson Mandela always demanded a free exchange of ideas and options and a vigorous debate of different views within their inner circles before decisions were made, according to Bush insiders and President Bush himself, this didn't occur in the context of the decision to invade Iraq.
In a series of radio interviews, Friedlander has asked some provocative questions. For example:

Why is it, he asks, that we don't we insist that the bar is set higher for our political, financial and academic leaders by using Nelson Mandela's example as an opportunity to do so?
And why don't we demand that the business and law schools teach about Nelson Mandela⎯at least to show the connection between moral authority and effective leadership? Certainly, if Nelson Mandela would demand this, why shouldn't we?
In noting Nelson Mandela's comment about the brutal behavior of his wardens on Robben Island, namely, that bad behavior that is rewarded is repeated, Friedlander asks why our financial leaders consistently reward the bad behavior of those who create such economic carnage while reaping enormous personal benefits? Certainly, if Nelson Mandela would never countenance this, why would we?
And why is it, he asks, after we saw how our financial leaders recklessly used derivatives at such huge cost to our economy, that anyone could now seriously still resist any efforts to regulate the derivatives industry to prevent the same abuse that caused such carnage? When, he asks, will our leaders summon the courage to do the right thing and confront those who oppose the regulation of derivatives? Certainly, this doesn't require Mandela-like courage⎯or does it?
And why, he asks, are we satisfied about the performance of our business schools in addressing two major crises of our time, namely, the crisis of pervasive cheating and the crisis of those who look the other way as those around them cheat? Why do we let them get away with this?
And why, he asks, are we not bothered by the fact that business students engage in more academic dishonesty than other students? And why are we not bothered that the schools appear to look the other way as pervasive cheating occurs? It is any surprise, he asks, that these students, as they become our business leaders, continue to cheat or tolerate others who cheat?
And, finally, he asks, why do business and academic institutions believe that Honor Codes and Codes of Ethics are somehow a panacea that will cure the two crises of cheating and looking away? Don't they know that Enron had a 65-page Code of Ethics that was widely regarded as an excellent document? Don't these institutions understand that, unless leaders lead vocally and by example, and unless leaders demonstrate the moral authority and courage needed to be effective leaders, the Honor Codes and Codes of Ethics will become exercises in futility?
And this brings Friedlander back to the ghost of Nelson Mandela⎯the dean of leadership, moral authority and courage…
About Michael Friedlander
Born in South Africa and now living in Los Angeles, Friedlander is an international business attorney who has also recently been the CEO of an international music company and the CEO of an international architectural design company. He has lived and worked in many parts of the world and has gained his reputation as an expert negotiator while negotiating agreements in many of the world's commercial centers.
He has recently written the critically acclaimed "Detecting the Scam: Nelson Mandela's Gift," in which he looks at high-profile scams through the lens of Nelson Mandela's life, skills and moral authority. He looks at Nelson Mandela's negotiating skills by examining how he came to acquire them. In the course of doing so, he identified 10 Powers of Negotiation, one of which is the Power of Common Sense. To explain this power, Friedlander also created The Duck School, the school of common sense. He has also created a video in which he explains how he came to write the book and the connection between scams and Nelson Mandela's "gift." A formal launch of the book is planned for August 2011.
Friedlander also offers seminars and training programs to corporations on negotiation, leadership and identifying scams.
###