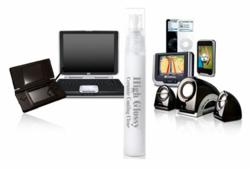 It is amazing that I can keep same accuracy on iPad touch screen even after applying the item. I escaped from film cover on it, and still prevent from scratch. I will buy another one for my boyfriend who has an iphone. - a real customer from NY.
Los Angeles, CA (PRWEB) May 11, 2011
ProetectTVs.com has introduced an innovative screen protection solution for hand held devices such as iPhone, smart phones and iPad to US market.
The main complain of the screen protector users today is about losing touch sensitivity when the protection film is applied on the surface. No matter how thin the film is, it's inevitable to lose the feel and sensitivity to some degree. Given that today's handheld devices are all about touching, losing touch sensitivity for screen protection is becoming more and more close to non-sense.
Now the solution to this dilemma just came to the market. Nanotech Protector is a liquid base product which user can apply on any touch screen surface. It does not affect the touch sensitivity at all. Yet it still does an amazing job in protecting the screen. It is good news to the millions of today's hand held device users because now they can enjoy their device 100% with comfort.
Once applied the liquid coating protects the screen from minor scratches and significantly reduces the collection of dusts, smudges, finger prints and cosmetics on the surface for years to come. One application lasts three years on average. ProtectTVs.com recommends two applications for the maximum protection effects.
ProtectTVs.com's Nanotech Protector is made from environmental friendly materials only. It does not contain any hazardous materials. For more information on the NanoTech Protector and protectTVs.com, visit http://www.protectTVs.com.
Media Contact:
Charles Jeon
charlesj(at)protecttvs(dot)com
562-479-0110
###