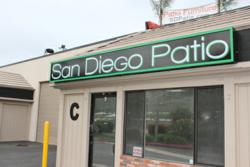 None of us could have predicted that our store would do as well as it has so far
San Diego, CA (PRWEB) May 11, 2011
San Diego Patio, the outdoor furniture store that opened its brick-and-mortar doors to the public in February of this year, has capped off its most impressive month so far in its relatively young lifespan. The company, only a few months old, has been increasing its profits and growth exponentially.
It's an interesting outcome for a new store, with an unrecognized brand, in an economy that is notoriously harsh to small businesses in luxury-goods niches. The story is truly an inspiring one for other would-be small business owners, who may not have brand recognition, but have plenty of heart.
"None of us could have predicted that our store would do as well as it has so far," says Ben Harvey, the owner of San Diego Patio and its online incarnation, PatioProductions.com. "We're really excited to see our store growing with every passing month. The month of April wasn't just the biggest month for San Diego Patio, our offline store, but it was our biggest month ever across both the store and the site."
"Basically, we've just been killing it in terms of sales."
When asked why he thinks his store has been so successful, Ben Harvey gives all credit to his customers.
"What separates our stores – what makes Patio Productions and SD Patio so different from our competitors – is how attentive we are to our customers," he says. "We've been a store for the community since day one. I love San Diego and the people here, and I do everything I can to keep my local friends and customers happy."
Much of the store's online and offline advertising has been directed very specifically at San Diego homeowners, though many of the stores' customers come from elsewhere. As of this writing, Patio Productions has sold its outdoor furniture to customers in every single state barring Alaska, to whom the products are not yet available for shipping. The local advertising directions are indicative of Harvey's dominant interest in appealing to local markets.
"We love all of our customers and we do everything we can for them," Harvey says, "but I feel like I can do so much more locally. I can interact with these people more effectively, I can hear their comments and suggestions more readily, I can offer better deals and locally-oriented rewards to customers who live nearby. Local is really the place to be for a small business owner like me. I just feel so much more involved in the community and I think it makes me a better business owner."
So is local the way to go? Will it supplant nation-wide sales for small online businesses?
Says Harvey: "No way, local is a great new addition to our store, but it definitely doesn't replace our commitment to nation-wide customer service. It's easier to cater to our local customers' needs, but we want to make sure that every single one of our customers is taken care of, whether they be here in San Diego or out in New York City."
You can contact Patio Productions or San Diego Patio at (888) 994-9196. Visit the San Diego Patio furniture showroom at 5555 Santa Fe St Suite C, San Diego, CA 92109. They are located alongside the I-5 freeway.
###