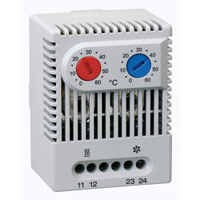 Riverside, CA (PRWEB) May 11, 2011
STEGO manufactures products for heating, cooling, temperature, and humidity control of electronic enclosures. The maintenance of a correct operating temperature may combine cooling, heating, or both inside an enclosure which can protect against system failures and expensive downtime. Solutions Direct is now the authorized distributor for these thermal management products in the U.S., which complements our extensive offering of electrical enclosures and electronic racks and cabinets.
STEGO's products are designed to be basic, reliable, and operate in standard or harsh environments. Its broad range includes PTC heaters,fan heaters, explosion-proof heaters, thermostats, hygrostats, filter fans, enclosure lights, and accessories. This product line can be segmented into three functions: heating, ventilating, and regulating.
Due to fluctuating temperatures, condensation can form in electronic enclosures. This can lead to serious malfunctions or, worst case, to component failure. Up to a relative air humidity of 60 percent, the possibility for the formation of condensation remains low. Above 60 percent, however, the chances of condensation formation increase significantly. This problem can be reduced substantially by keeping the environment inside an enclosure at a temperature just 5°C higher than the ambient air. Heaters protect against low temperatures, thus preventing the formation of condensation. STEGO's line of heaters range from 5W up to 1200W and some are available with integral thermostatic or hygrostatic control. STEGO also manufactures an explosion-proof heater that operates from 50W to 100W in a small form factor.
Ventilation provided by filter fans and fan trays are used to divert warm air away from heat sensitive components and devices in the enclosure. High component densities in enclosures generate increased temperatures which can cause component failure. STEGO's filter fans are available from 14 CFM to 373 CFM with matching filters. Also, the 19" fan tray is for forced circulation of air in rack mounted cabinets. The 19" fan trays are available with 3, 6, or 9 fans depending on the application. All fans are weather, impact, and UV light resistant.
Regulators or thermostats control temperature and humidity to maintain a narrow range of acceptable performance within the enclosure. Besides properly sized heating or cooling devices in an enclosure, the appropriate temperature and humidity controls are necessary to guarantee the climatic conditions needed for trouble-free operation of electronic and electrical components. STEGO temperature and humidity controls can help achieve the ideal operating conditions even in the harshest environments.
About STEGO:
Since 1980 STEGO has been developing and producing innovative products for heating, cooling, temperature and humidity control of electronic enclosures. STEGO products are renowned for their reliability, long life, simplicity of use, and high quality. With locations in 11 countries and strategic partnerships internationally, they are able to serve their customers world-wide. STEGO products have been sold globally and are being used in the most diverse climatic conditions imaginable.
About Solutions Direct Online:
Solutions Direct Online is an online distributor that provides technical products for industrial customers and strives to provide the highest quality products at affordable prices. A partial list of our products include electrical enclosures, electronic racks & cabinets, infrared temperature measurement products, material testing equipment, process control & measurement products, and scales & balances.
Contact Information:
AJ
Solutions Direct Online
(888) 886-8185
http://www.solutionsdirectonline.com
###