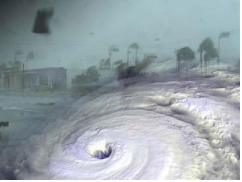 GlobaFone CEO Lou Altman has a unique perspective on hurricane preparedness
Portsmouth, NH (PRWEB) May 11, 2011
GlobaFone, a leading multi-carrier satellite Service Provider announced today that CEO Lou Altman will deliver the most important webinar so far this year, "It's Hurricane Season - Are You Prepared?'. This free webinar will assist organizations in preparing for the upcoming Hurricane Season by asking the perpetual question - Are You Prepared?
Mr. Altman's goal is to help public and private organizations think about, and act upon having the necessary resources aligned and ready to go, should a storm hit the US.
The predictions are indicating an above average hurricane season with very active weather patterns so preparation will be key this year. Join this webinar you'll learn:

Hurricane history and the four devastating hazards brought on by hurricanes
What the forecasters are predicting for the season
How those predictions can impact you and your organization
The top 10 preparations to make NOW, before the season starts
This will be a jam-packed, informative session. This webinar is especially recommended for BC/EM/ER professionals located in the 'hurricane belt' - the southeastern United States.
This webinar coincides with the National Hurricane Center's 'Hurricane Preparedness Week', from May 22nd through May 28th.
Due to the critically important subject, this webinar will be very popular, so please register below to join - space is limited!
Title: It's Hurricane Season! Are you prepared?
Date: Monday, May 23, 2011
Time: 2:00 PM - 3:00 PM EDT
Register at: https://www1.gotomeeting.com/register/486348824
ABOUT GLOBAFONE:
GlobaFone of Portsmouth, NH is an award-winning, leading service provider of satellite phone solutions to Federal, State and Local Governments, as well as corporate clients. GlobaFone's solutions include five brands of satellite communications – Iridium, Inmarsat, Globalstar, Thuraya and VSAT as well as cellular service for lease with roaming in over 200 countries as and local cellular service in dozens of countries. For more information please visit http://www.globafone.com
###