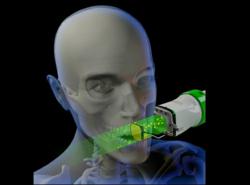 Tru-Align lowers dental-x-ray radiation exposure by as much as 60-70%
Atlanta, GA (PRWEB) May 10, 2011
The flurry of recent media coverage--from Dr. Oz to the New York Times--about medical and dental x-ray safety has created misinformation and needless worry among healthcare consumers. An important story is unfolding at the Anaheim Convention Center from Thursday May 12 through Saturday May 14 as Interactive Diagnostic Imaging (IDI) unveils its revolutionary Tru-Align dental x-ray machine add-on. Tru-Align lowers dental-x-ray radiation exposure by as much as 60-70%, allaying patient fears and concerns and ensuring the safest and most beneficial dental office visit.
Members of the media can learn about Tru-Align live and up close at Booth 1284 during the California Dental Association's annual spring trade show at the Anaheim Convention Center. Tru-Align reps will be demonstrating Tru-Align and answering questions on Thursday, May 12, 9:30 to 5:30; Friday, May 13, 9:30 to 6; and Saturday, May 14, 9:30-4:30. Press passes to the session are available at no cost by registering on site at the Press Booth located in the main registration area.
To schedule a demo/interview with an IDI principal and/or Tru-Align developer, contact Lisa Schwartz by email at lisa(at)99ronin(dot)com or by phone at 213-500-4170.
Background on Dental X-rays and Tru-Align:
Fact: X-rays are an important and necessary diagnostic tool for early detection of dental disease. Early detection means early intervention, which means lower-cost and less-invasive treatment.
Fact: Dental x-ray exposures are very low. A single bitewing x-ray produces less than half the radiation as a chest x-ray. A set of x-rays of the whole mouth, taken every five years, produces 100 times less radiation than an average person is exposed to from environmental sources in the same time.
Fact: The cumulative effect of exposure to x-ray over long periods of time is not known.
Do No Harm
The Hippocratic Oath says that oral health professionals are "bound" by the ALARA principle when it comes to taking x-rays. ALARA stands for "as low as reasonably achievable." In other words, the dental team follows specific procedures to minimize radiation exposure that are practiced universally…almost.
Among them:

Only take x-rays when necessary for accurate diagnosis.
Use the fastest methods possible (either the highest speed film or digital x-rays)
Use proper patient protection (lead aprons and thyroid covering)
And yes, these procedures are followed in virtually all dental practices. The ALARA protocol is endorsed by all of the most-recognized sources of radiation safety guidelines, such as the National Council on Radiation Protection and the American Academy of Oral and Maxillofacial Radiography. But there is another very important procedure that is currently followed in very few dental practices.
Change the Shape, Reduce the Radiation
Widely ignored, a key component of the ALARA protocol is the use of "rectangular collimation" as a method of reducing radiation exposure. Most patients recognize that round cone at the end of the x-ray machine. It emits a large circular beam of radiation that makes it easy to aim at and take an x-ray of the desired area. But the round cone also emits a lot of scatter radiation that is absorbed by the patient instead of the film or digital device. Rectangular collimation creates a smaller, rectangular beam that dramatically reduces useless and dangerous scatter radiation.
Here's the problem: all members of the oral health team are taught to use round cone x-ray machines in their formal training, so that is what they are familiar with. Additionally, rectangular collimation systems make it difficult to obtain good x-rays, much less get an image of what they are actually looking for. Until now.
Tru-Align
Technically, Tru-Align is a "rectangular collimator" that can reduce patient exposure to radiation by as much as 60-70% and it allows dentists and their teams to use familiar techniques and it provides more accurate, useful x-rays. For patients, this means safer visits, better care. For dentists, this means all the previous problems are eliminated.
Unobtrusive and non-threatening, Tru-Align simply attaches to the end of the round cone of the dentist's existing x-ray machine and features a distinctive green ring, making it easy to identify. Patients are encouraged to "Look for the green ring" on their dentists' x-ray machine to make sure they are receiving the safest x-rays and the most accurate diagnosis.
Educated Consumers are the Best—and Safest—Patients
Patients also are urged to talk to their dentists about the practice's radiation safety measures. And if they don't "see the green ring," a key part of this conversation should be the use of Tru-Align. The simple truth is that all dental patients deserve the safest and most accurate x-rays and are entitled to demand this of their dentists. Tru-Align is a very affordable technology and there is no reason why every dentist shouldn't have one on every x-ray machine.
Complete details on Tru-Align are available at http://www.IDIXray.com or by calling toll-free 855-IDI-XRAY. Additionally, Dr. Michael Razzano, CEO of Interactive Diagnostic Imaging, Tru-Align's manufacturer, is available for interviews. Video and images are available as well. Contact Lisa Schwartz by email at lisa(at)99ronin(dot)com or by phone at 213-500-4170.
About Interactive Diagnostic Imaging (IDI)
Interactive Diagnostic Imaging (http://www.IDIXray.com) focuses on the design, patenting and marketing of advanced x-ray imaging equipment and related digital technology products, predominantly for the dental market. Five core products are being designed and patent protected, with the participation of leading dentists and university researchers. IDI products dramatically enhance diagnostic services while improving profitability. IDI's product line is an integrated group of products that provide a total solution to in-office imaging and diagnosis, especially at the point of care.
###