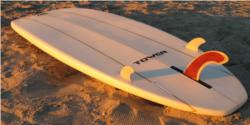 By foregoing a retail distribution strategy we can offer a board that's twice as good as comparably priced SUPS and half the price of similarly quality boards.
(PRWEB) May 10, 2011
Upstart, direct-to-consumer SUP ("Stand Up Paddle Board") brand, Tower Paddle Boards has introduced the Tower Fit, an SUP that's shorter, lighter, and more practical for beginners. It's only available direct from Tower at an industry leading sub-$600 price point.
Where most beginner SUPs are surprisingly uniform in their long, narrow, thin design, the Tower Fit is significantly shorter, yet wider and thicker, which makes the floatation the same. It achieves better stability (a factor of width + Volume) in a lighter, more maneuverable size, which solves many of the storage and transportation nightmares that have plagued SUP users for years. What's more, the resulting outline is a lot like a great big short board (surfboard) and thus it enjoys performance benefits in the surf as well. The double concave bottom contour aids in both flat water tracking and surfing speed down the line. It's better design, plain and simple.
Where the primary players in the SUP market (existing surfboard, sailboard, and kayak brands) are dependent upon and thus inseparably tied to a traditional multi-tier distribution strategy, upstart Tower employs a direct to consumer model using the exact same factories as the major brands. For the majority of new SUP shoppers, whose first question is invariably why SUP boards are so expensive (traditionally $800-$1700), the Tower business model represents access to wholesale pricing levels.
"The pain for consumers thinking about getting into SUP right now is two-fold," said Stephan Aarstol, founder of Tower Paddle Boards. "The well designed, high-quality brand boards are nice, but also very expensive. Not everyone can afford dropping $1500-$2000 on a new hobby. The price point focused boards on the market are competing on the same shelves using the same distribution channel, yet they don't have a brand name to protect so they are throwing design, quality, and durability out the window and focusing on cost, at all costs."
"We're different by design, "continues Aarstol. "By just selling direct, we're able to cut 30-50% of the costs out of the distribution channel instead of shortsightedly trying to cut costs out of the design, quality, and innovation department. By foregoing a retail distribution strategy we can offer a board that's twice as good as comparably priced SUPs and half the price of similarly quality boards. We can beat even Costco on price and quality. Of course we're not going to sell 10,000 boards like a lot of the brands and the Costco's of the world, but we'll have a much better offering for consumers that do their homework. In today's connected world, I believe that's a viable long term strategy."
The first shipment of Tower Fit SUPs arrives in June of 2011 and it's already half sold out.
About Tower Paddle Boards
Tower Paddle Boards (on the web at TowerPaddleBoards.com) is an emerging design and innovation leader in flat water SUP and paddle surfing boards, SUP paddles, paddleboard accessories, and surf wear. Their flagship retail SUP shop in San Diego carries the Tower brand as well as other SUP boards and stand up accessory brands.
###