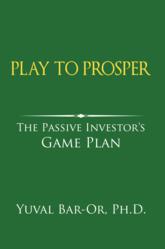 Baltimore, MD (PRWEB) May 12, 2011
With the recent economic downturn, investors are faced with navigating an investment world that is both baffling and hazardous. Many investors feel lost, intimidated, confused and overwhelmed by financial markets and the thought of having to make investing decisions. Some are suspicious of financial advisors, brokers and economic forecasters.
"Play to Prosper: The Passive Investor's Game Plan" provides step-by-step guidance for investors wishing to implement a passive investing strategy. The passive strategy calls for purchasing low-cost, well-diversified funds spanning major asset classes (including domestic and foreign stocks and bonds). Scientific evidence shows that the majority of non-professional investors should adhere to a passive approach. The approach takes a long-term, fee-minimizing perspective and can be implemented with or without a financial advisor's assistance. This concise and accessible book provides links to numerous online resources, with an emphasis on free tools.
This is the second book in the Play to Prosper series. While it stands on its own, it is designed to complement the first book, "The Small Investor's Survival Guide." The Survival Guide uses game and play analogies to help readers gain a broad understanding of the investing game's playing field and the players who make a living on it.
The "Passive Investor's Game Plan" covers the following topics:

deciding whether to utilize the services of a financial advisor
determining asset allocation
identifying diversified (mutual and exchange traded) funds for investment
practicing with simulated trading
opening a real trading account
monitoring and rebalancing the investment portfolio
Written with the informed perspective of a longtime member of the financial industry, "Play to Prosper: The Passive Investor's Game Plan" is a practical guide for small investors.
"Play to Prosper: The Passive Investor's Game Plan" is now available at Amazon.com and other online retailers at a list price of $14.95. For bulk orders please visit the publisher site at http://tlbcorp.com.
For more information, or to speak with Dr. Yuval Bar-Or, please call 410-773-9443 or visit http://lightbrigadecorp.com/.
About Dr. Yuval Bar-Or
Dr. Yuval Bar-Or is founder of The Light Brigade LLC, a consulting company dedicated to helping its clients make better financial and managerial decisions by managing risk. Drawing on Dr. Bar-Or's expert knowledge of business, financial credit risk analysis and investing literacy, The Light Brigade provides unbiased educational content to help clients make better decisions, thereby reducing personal and corporate risk. Dr. Bar-Or is an adjunct professor at Johns Hopkins University's Carey Business School, where he teaches courses in investments.
Dr. Bar-Or has been quoted in various media, including The Wall Street Journal, BusinessWeek, Forbes.com, TheStreet.com, Bankrate.com, Investopedia.com, InvestmentNews.com, AdvisorOne.com, The Arizona Republic, FoxBusiness.com, US News & World Report, Treasury & Risk, Morningstar.com, and RIABiz.com.
The Light Brigade helps individual investors, corporate human resources professionals, executives, educators, and policy makers to feel more confident in their financial and managerial decisions, to manage risk and to increase transparency in financial markets. For more information, visit http://lightbrigadecorp.com/.
SOURCE The Light Brigade LLC
###