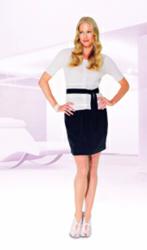 "Women are excited that this line is now available in a stronger compression level. We have also heard from many women who are thrilled to learn that the EverSheer line now features open toe pantyhose this year."
Peachtree City, GA (PRWEB) May 11, 2011
SIGVARIS, the global leader in medical compression therapy and DVT prevention advocate, just announced that the popular EverSheer line is now available in the 30-40mmHg compression level. The new addition to the EverSheer line will create a fashionable look on the legs of women everywhere, including those that suffer from venous disorders.
EverSheer delivers consistent sheerness from ankle to thigh and is available in several easy-to-wear styles including knee-highs, thigh-highs and pantyhose. Select shades are also available in open-toe styles for fashionable wear with spring and summer shoes.
"The EverSheer product line has always been popular among women who care about fashion," says Jonas Thelin, marketing director for SIGVARIS North America. "Women are excited that this line is now available in a stronger compression level. We have also heard from many women who are thrilled to learn that the EverSheer line now features open toe pantyhose this year."
SIGVARIS EverSheer offers a stylish hosiery option for women's every day wear and may be used as a maintenance therapy option after recovery from a vein procedure.
EverSheer combines all-day softness with comfort leaving women with a sheer fabric against their skin. The EverSheer line is available in Black, Dark Navy, Mocha, Natural, Nightshade, and Suntan shades.
EverSheer provides excellent breathability and moisture management, making it the perfect product to wear year-round for work, dress or travel. For style savvy women, SIGVARIS EverSheer Compression Hosiery gives them the luxurious look of hosiery found at high-end department stores with all the added benefits of graduated compression hosiery.
About SIGVARIS
SIGVARIS® North America is part of an internationally active medical device group headquartered in Winterthur, Switzerland that focuses on the development, production and distribution of medical graduated compression garments, including hosiery and socks. With distribution in more than 50 countries on six continents, SIGVARIS, is recognized as a global industry leader in the area of compression therapy for the management of chronic venous insufficiency and venous disorders. SIGVARIS' US manufacturing plant is located in Peachtree City, GA. SIGVARIS is a committed DVT prevention advocate. In addition to medical products, SIGVARIS also manufactures lifestyle and sports products based on its expertise in graduated compression therapy. http://www.sigvarisusa.com SIGVARIS, LIFE FOR LEGS and the leg icon are registered trademarks of Ganzoni & Cie AG, St.Gallen/Switzerland and in many countries worldwide.
###