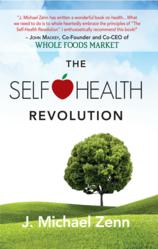 You Are What You Eat... Eats!
Los Angeles, CA (PRWEB) May 10, 2011
Rising Health Author, J. Michael Zenn, Enthusiastically Endorsed by Whole Foods Market Founder and CEO, Recently Appears on CBS News. Over One Million Television Viewers Watched Zenn Boldly Proclaim, "You Are What You Eat…Eats!"
"You have heard the saying, 'you are what you eat' but these days you better be more concerned with what you are eating…is eating!" What has this animal been eating? What has this vegetable been fed? These are the critical health questions that everyone should be asking themselves", Zenn admonishes a million viewers on CBS TV. As Zenn tells it, gone forever are days of the Normal Rockwellish image of animals strolling through a meadow, chomping on green grass set on the backdrop of quite and peaceful farm.
In fact, Zenn says, "most of the meat we eat today is loaded with female hormones designed make the animal 40% fatter which in turn, when we eat it, makes us 40% fatter." Recent studies may agree, the latest CDC report reveals 105 million Americans are diabetic, pre-diabetic and most likely obese.
And surprisingly, Zenn does seem to be connecting with a whole new audience of self professed, non-health nuts who have typically turned a deaf ear to such messages in the past. Zenn sold out of books within hours of the live airing of his CBS interview and somehow he's even managed to capture the admiration of the likes of John Mackey, Founder and CEO of Whole Foods Market, the largest healthy grocer in the U.S. and currently the number one health brand in world.
Zenn legitimately seems surprised, "John read my book, "The Self Health Revolution," cover to cover, twice in a row and then contacted me about endorsing the book. I had no idea that he was so excited about my work and I feel very honored that someone of his statue would endorse my work. I think it's the first health book that John has ever endorsed. I feel very special!"
Zenn says the secret to the success of his book is its simplicity. "It's written on a 8th grade reading level. It appeals to the reader's strong grasp on common sense and even has pictures for those who are easily bored and confused by books written by doctors to perhaps impress their doctor friends."
Whatever the case may be, Zenn certainly seems to be reaching a much larger audience than the health book genre has ever seen before. So called "health nuts" are now buying the book to explain their healthy lifestyle to their skeptical friends and conscientious wives are sneaking the book into their husband's bathroom reading stash hoping that the Zenn effect will take root one more time.
###