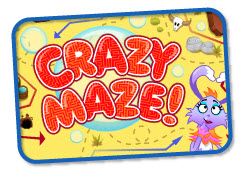 Emeryville, CA (PRWEB) May 13, 2011
There has been a significant trend toward brain games among the American public over the last few years. It started primarily among the Baby Boomer generation in an effort to stave off the deterioration of the mind that can accompany aging. But Kabongo has applied similar methods of this contemporary cognitive neuroscience in their new online kids games at GoGo Kabongo.
Kabongo Inc. is an award-winning company offering online reading games for kids that improve thinking and problem solving skills in children to improve reading. In essence, Kabongo's animated online world, GoGo Kabongo, combines contemporary cognitive neuroscience with the latest in brain game technology in order to make mental development and learning fun for children through online kids games.
Kabongo applies the approach of the renowned cognitive neuroscientists J.P. Das, PhD, and Dr. Jack Naglieri, Professor at George Mason University, an expert in cognitive assessment. The cognitive psychologist and game design team at Kabongo created their online kids games to build attention and focus, planning, and processing skills, all essential to learning to read.
In order to keep up with the latest developments in the field, the Kabongo team has assembled an educational advisory board that influences product design and development, as well as constantly play-testing their new and current online educational games with kids and parents.
GoGo Kabongo is designed primarily for children between the ages of 4 and 7 years, and has already accumulated thousands of registered users and industry awards within the first few months of its initial release.
For more information about Kabongo, online kids games for cognitive and reading development, and GoGo Kabongo, or to start your child on a playing and learning adventure, visit the official website at http://www.kabongo.com.
About Kabongo
Kids learn best by learning to think. And they learn even better when they're doing something they love. These are the ideas that drive Kabongo, a developer and publisher of digital thinking products for kids. Developed by a parent and cognitive psychologist, Kabongo's exciting brain play products cultivate the thinking skills that underlie learning, inspiring self-confidence through the joy of play. Enthusiastically embraced in classrooms across the country, Kabongo's online learning games are now available to all, empowering kids everywhere to become better thinkers.
###