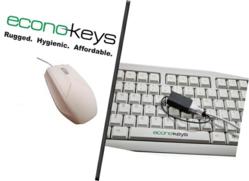 "As an industry leader, we are excited to have the opportunity through WETKEYS.com to provide our cost-effective waterproof peripherals to more hospitals, clinics and businesses."
Austin, TX (PRWEB) May 13, 2011
Econo-Keys (http://www.econo-keys.com), an innovative manufacturer of sealed, ruggedized keyboards for medical and industrial applications, announced today that it has partnered with WETKEYS Washable Keyboards (http://www.wetkeys.com), a leading supplier of washable computer keyboards, to offer Econo-Keys' high-quality products at a significant discount to hospitals, manufacturing facilities, dental offices and other areas where infection control is a key concern.
For a limited time, WETKEYS.com is able to offer the new EKFT-108 keyboard and EK-PM-W mouse combination for only $59.95 – more than $40 off the regular price.
Studies show that commonly shared keyboards and mice are infectious hazard points that are difficult to disinfect. Bacteria can grow and live on keyboards for over 24 hours, making it easy for them to spread harmful bacterial infections among users - especially in critical healthcare settings.
To combat this growing problem, Econo-Keys manufactures computer hardware that is completely sealed and waterproof. Econo-Keys' EKFT-108 keyboard and EK-PM-W mouse are compatible with hospital-grade disinfectants, and can even be cleaned in a dishwasher.
"We are very excited to be working with Econo-Keys to offer this combo-set at the special promotional price of $59.95. It's a fantastic savings opportunity for IT buyers to reduce equipment costs," explained WETKEYS director of design, Paul Lawrence. "This sanitary medical keyboard and mouse set can be used by the healthcare industry to combat HAIs and lower the overall cost of healthcare."
In addition to its waterproof technology, the Econo-Keys bundle, available for immediate delivery through WETKEYS.com, is unique because of its simple, easy-to-use design. Unlike many sealed keyboards, the EKFT-108 has a full-travel keystroke and feels identical to a standard desktop model. Similarly, the EK-PM mouse has a traditional "click" feel and includes an integrated scroll-wheel.
"As an industry leader, we are excited to have the opportunity through WETKEYS.com to provide our cost-effective waterproof peripherals to more hospitals, clinics and businesses," Kacee Pals, Econo-Keys sales manager, said. "Infection control is a major concern today, and with the widespread use of innovative technology, we hope to reduce these risks in the future."
To purchase the full line of Econo-keys products, visit http://www.wetkeys.com/econo-keys.
For more information on Econo-Keys call 800-866-6506.
About WETKEYS®
WETKEYS Washable Keyboards (http://www.wetkeys.com) is a leading manufacturer and online retailer of fully sealed, easy to disinfect computer keyboards and mice. Its mission is protecting health and safety by providing affordable, easy-to-sanitize data input devices used throughout healthcare facilities and food processing plants to halt the spread of disease. WETKEYS.com offers the widest selection of medical keyboards, industrial keyboards and computer mice designed to withstand heavy-duty use in hospitals, offices, labs, and food safety applications. Maintain a healthier workplace, lower the cost of healthcare and extend the life of your IT equipment when you buy a waterproof keyboard and mouse from WETKEYS.com. WETKEYS is a member of the Advanced Technology Development Center of Georgia Tech with products featured as 'Top10 Tech Gifts' on CNBC, NBC and Fox News.
About Econo-Keys: As a leading provider of quality medical keyboards and mice, Econo-Keys is an Austin, Texas-based company dedicated to the prevention of cross-contamination through effective and practical methods. Econo-Keys waterproof peripherals are currently used in hospitals, labs and dental clinics worldwide. For more information about Econo-Keys, visit http://www.Econo-Keys.com.
###