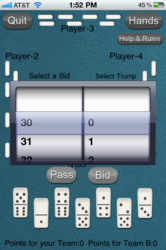 a new iPhone Dominos 42 Game is soon to be the State Game of Texas
Austin, TX (PRWEB) May 12, 2011
IngZ, Inc., an Austin-based mobile software development company, announced today the release of its flagship dominoes game Dominos-42 3D for iPhone, iPad, and iTouch, available now in the iTunes App Store: http://bit.ly/iZdIUS. Dominos 42 has a long and storied history in East Texas where it is played as a sport by clubs at a university in College Station and elsewhere. Dominos 42 3D is played like a card game with suits, bidding, and trump, but with a hand of dominoes instead of cards. It is often described as Euchre with dominos.
History:
Dominos 42 was born in Dallas in 1887 as Texas 42. It was designed as a dominos game to be played by 4 players just like many popular card games. Just like Euchre, Dominos-42 is played with trump. Similar to Hearts and Spades, Dominos-42 has bidding and players must follow suit. Strategic elements of scoring and bidding have made Dominos 42 one of the top dominoes games in the world. Dominos 42 became so popular in Texas that it has become a Texas tradition and is has been nominated to be named the official State Game of Texas: http://bit.ly/iBgDw2.
Dominos-42 first came to iPhone via New Horizon Games in 2009. New Horizon Games was acquired by Ingz, Inc. in 2010. IngZ has taken the original game and dramatically improved the graphics to be more 3D-like, as well as fixed many of the problems with the original version.
Features:

Supports any iPhone, iPad, or iPod Touch
3D Graphics and smooth animation
Support for high-resolution Retina Display
Single Player with up to 4 CPU players.
Multi Player (2 to 4 players) via Wifi to other devices on the same Wifi network
Classic Dominos-42 options such as "Nello", "Points or Marks" and "No trump trump"
About ingZ:
IngZ, Inc. is a mobile software development company that was founded to help smartphone users share knowledge and experiences with each other. Based in Austin, Texas, ingZ makes some of the world's deepest and most engrossing smartphone applications. IngZ, Inc. is also hard at work on an iPhone MMORPG based on the famous Traveller RPG franchise called Traveller AR: http://www.traveller-ar.com. Other ingZ apps include touringZ, 365 ThingZ to do in Austin, and Tour Guide Tool. For more information please visit http://www.ingz-inc.com.
# # #