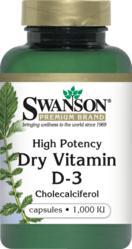 Fargo, ND (PRWEB) May 16, 2011
Vitamin D, also known as the "sunshine vitamin," is quickly becoming one of the most popular supplements in the United States due to the wide spectrum of health benefits it offers. Vitamin D-3 (vitamin D) is naturally produced in the body through exposure to sunlight—thus, the nickname: the sunshine vitamin. Recently, ConsumerLab.com approved a vitamin D supplement, Swanson Premium High Potency Vitamin D-3, from the Swanson Health Products' Premium line of dry vitamins.
Vitamin D-3 is a fat soluble vitamin that is naturally available in select dietary sources, but is also commonly added to foods such as milk. Traditionally, vitamin D-3 is known for bone support and aiding in the absorption of calcium. New research suggests vitamin D-3 also plays a role in supporting immune health, especially in regards to seasonal wellness. Because of the growing number of scientific studies verifying the various health benefits of vitamin D-3, this supplement is becoming increasingly popular.
ConsumerLab.com tested Swanson Health Products' Swanson Premium High Potency Dry Vitamin D-3 supplement for label accuracy, purity of product and the ability to breakdown and be absorbed. The "Approved" status from ConsumerLab.com affirms the quality assurance that Swanson Health Products deems a priority, which is evident in their Quality Control Program.
Swanson Health Products is an industry leader in bringing vitamins direct to consumers at the lowest prices possible. Swanson Health Products, headquartered in Fargo, ND, offers the highest quality vitamins, supplements and natural health care products and is Good Manufacturing Practices certified. Swanson Health Products goes a step beyond its competitors by offering powerful guarantees. All products are backed by a 100% Satisfaction, Money-Back Guarantee and Double the Difference Lowest Price Guarantee. For more information, please visit swansonvitamins.com.
###