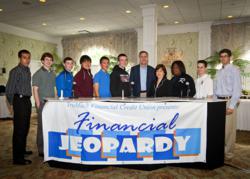 "These students have demonstrated the knowledge and aptitude required to build a strong financial foundation for their future. They have taken the first steps toward becoming financially responsible young adults." Richard F. Stipa, Trumark Financial CEO
Trevose, PA (PRWEB) May 13, 2011
Despite the efforts of many parents to educate their children about financial responsibility, many young adults develop spending and saving habits that leave them with credit problems early in their adult lives. TruMark Financial helped nine area students get off on a proper financial footing when it awarded more than $9,000 in scholarships at its 4th Annual Financial Jeopardy Game on Wednesday, May 4, 2011, at 5:30 p.m. at The Buck Hotel, 1200 Buck Road, Feasterville, Pa.
Grand prize winner Edward Ross of Roman Catholic High School prevailed over eight other contestants to win a $5,000 scholarship. Ross will attend Temple University in the fall. Second place winner Andrew Nguyen of Bensalem High School won a $2,000 scholarship and will attend Brandeis University; Kenny Yanni of Plymouth Whitemarsh High School won a $1,000 scholarship and will attend West Chester University.
In addition to the top three prizes, TruMark Financial awarded each of the six other contestants a $200 scholarship. These students represented the following high schools: Neshaminy, Upper Dublin, Radnor, Truman (Bristol Borough School District), The Young Women's Leadership School at Rhodes (Philadelphia School District), and Abington.
The Financial Jeopardy Game, a spin-off of the long-running nightly quiz show that airs on 6ABC in Philadelphia, tested nine students' knowledge in subjects relating to personal finance. The competition featured rounds of Jeopardy, Double Jeopardy, and Final Jeopardy.
"These students have demonstrated the knowledge and aptitude required to build a strong financial foundation for their future. They have taken the first steps toward becoming financially responsible young adults," commented Richard F. Stipa, chief executive officer of TruMark Financial.
The Financial Jeopardy Game is an extension of the financial literacy programs TruMark Financial supports and promotes throughout the Philadelphia region. In an effort to minimize credit problems among young adults, TruMark Financial employees visit local high schools to promote financial literacy by conducting presentations on topics such as setting up a savings account, establishing and maintaining good credit, budgeting, and investing. The presentations provide third-party expertise to the students and complement the schools' existing personal finance curricula.
Prior to the Financial Jeopardy Game, TruMark Financial awarded a $500 grant to business education teacher Regina Cade of Truman High School. Cade plans to use the grant to purchase textbooks and resources needed for a new personal finance class slated for September.
About TruMark Financial:
TruMark Financial is one of the strongest, most progressive credit unions in the nation, offering a full range of banking, investing, and insurance services to over 94,000 members in Southeastern Pa. Nationally recognized for its award-winning community outreach programs and as one of the "Best Places to Work in Pennsylvania" in 2009 and 2010, TruMark Financial remains committed to growth while maintaining financial soundness.
TruMark Financial specializes in extraordinary service and impressive loan and deposit rates without excessive fees and stipulations. TruMark Financial offers free checking with interest, access to thousands of surcharge-free ATMs nationwide, an unrivaled debit card cash/rewards program, and free, unlimited online Bill Payer. The credit union is committed to meeting consumers' borrowing needs through home equity and Platinum Visa® programs featuring attractive introductory rates, low-rate mortgages, and up to 100% new/used vehicle financing.
Founded in 1939, TruMark Financial is headquartered in Trevose, Pa. and has approximately $1.3 billion in assets through its 14 branches, Call center, and a suite of innovative online services. To learn more about TruMark Financial, visit http://www.trumarkonline.org or call 1-877-TRUMARK. Follow TruMark Financial at facebook.com/trumarkonline and twitter.com/trumarkonline.
Please note:
Interviews are available with TruMark Financial representatives, as well as with students from the competing high schools. For more information, or to schedule an interview, contact Debbie Goetz at 215-630-5408 or dgoetz(at)dgmediaconnections(dot)com.
###