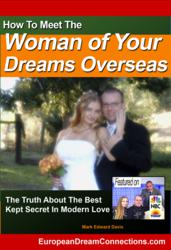 "Marrying a Russian or Ukraine bride is the best kept secret in adult dating - I've been happily married for 4 years." -- Author Mark Edward Davis
Los Angeles, CA (PRWEB) May 12, 2011
"The Dr. Phil Mail Order Brides show set to air Friday, May 13 was a complete disaster," says author Mark Edward Davis. "Dr. Phil's show is supposed to be dedicated to improving relationships, but he foolishly chose troubled guests on the stage who should have never made it past the assistant producer," Davis says.
Mark and Anna will be hosting a live video streaming show 1 hour before -- and a live chat during and after the show to combat the myths about Russian and Ukraine brides at EuropeanDreamConnections.com.
"Using the hack, outdated, term 'mail order brides' in the show title was the first clue that Dr. Phil was going Jerry Springer in search of ratings. Putting a morbidly obese 60-plus-year-old self-described 'victim' and a man even Dr. Phil classified as in the top .01% of all the control freaks he'd met on as examples of international romance guaranteed an epic fail.
"The problems in these marriages had zero to do with the fact that they began via an international romance tour. The guys spent too much time bashing American women, and avoiding their own responsibilities. Their wives were miserable and frankly, Dr. Phil mailed it in with some platitudes about relationships.
"My wife and I sat in the audience with more knowledge and experience about this topic than everyone paraded on stage, including the host. The 60 seconds of airtime we got to defend the truth about overseas dating was even an exception. Sadly, the producer told us before the show they had not planned on having anyone on with a positive story," said Davis.
Mark Edward Davis, owner of European Dream Connections, met his wife Anna in Ukraine on a romance tour, and was so impacted by the untold true story about Ukrainian women vastly outnumbering local men he wrote a tell-all book for Western men seeking a unique, more traditional male/female love relationship they are unlikely to find at home.
After he and Anna appeared on The Today Show where Matt Lauer insinuated that Ukraine brides were "high class prostitutes" Davis was so furious he decided to give his book away free on his website EuropeanDreamConnections.com.
Mark Edward Davis is available for radio/television/media interviews on the topics of overseas dating, international romance, Russian brides, Ukraine brides, and mail order brides.
# # #