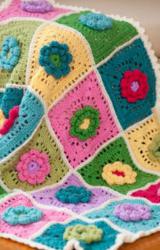 Now crafters can have the best of both worlds—a machine washable, easy-care yarn that is also completely natural fiber.
Charlotte, NC (PRWEB) May 13, 2011
The newest addition to the Stitch Nation by Debbie Stoller yarn line is Washable Ewe, a 100% super wash medium weight wool yarn. Washable Ewe has all the benefits of wool and yet it is machine washable. Featuring the same kinds of bright, fashion-forward color shades that the Stitch Nation yarn line has become known for, this versatile yarn is ideal for fashion, baby, kids, accessories, and home décor projects. Washable Ewe is perfect for both knit and crochet projects, and it is guaranteed to be a long-lasting favorite!
"I am really excited to introduce the new Washable Ewe 100% natural wool fiber yarn that is 100% machine washable!" said Debbie Stoller. "Now crafters can have the best of both worlds—a machine washable, easy-care yarn that is also completely natural fiber. I 'm so happy with the colors, and all the stylish, free patterns we've created that are available for both knitters and crocheters..."
Stoller, a "knitting superstar" known for revving up a new crafting generation, brings the same passion and expertise to her yarn line.
The three other yarns in Stitch Nation by Debbie Stoller collection are Bamboo Ewe, Alpaca Love, and Full o' Sheep. The yarns were developed in partnership with Red Heart®. All Stitch Nation yarns are medium weight and come in generous 85 – 100 gram balls, which sell for under $5. Stitch Nation by Debbie Stoller is an affordable option in high-quality yarn, and you will discover this is yarn for people who love yarn.
For more information about Stitch Nation by Debbie Stoller, visit http://www.stitchnationyarn.com or http://www.redheart.com.
Debbie Stoller is the New York Times best-selling author of the Stitch 'N Bitch knit and crochet books, selling over 1,000,000 copies. Her new take on an age old craft spawned a worldwide Stitch 'N Bitch movement of over 1,000 Stitch 'N Bitch groups formed in close to 300 locations and over 25 countries. Debbie has a Ph.D. from Yale in Psychology of Women and is the editor and co-founder of Bust Magazine, a modern women's magazine that celebrates young women's lifestyles and interests. In her spare time, Debbie runs cruises and travel excursions teaching and meeting her fans around the world.
Red Heart® is one of the most trusted brands in yarn. Celebrating our 75th Birthday in 2011, more people have chosen to make American heirlooms using Red Heart yarn than any other yarn. Red Heart yarns stand for quality, largest color selection, fashion and above all else, crafted with love. Whatever your creativity calls for, you'll find it in the Red Heart family. Explore our vast selection of yarns, booklets and free patterns for all skill levels. For more information on Red Heart® please visit, http://www.redheart.com.
Together we will find inspiration. Red Heart and You. Two Hearts One Passion.
Coats & Clark is one of the most recognized names in yarn, sewing and needlecraft products in America. First marketed in 1936, the Red Heart® brand today continues to exude its founding principles; quality, value and inspiration for the knitting and crochet enthusiast.
Editor's Note: To interview Debbie Stoller, please contact 704-329-5013.
###