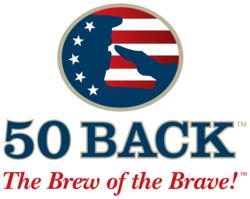 "Veterans and their families sacrifice every day for the rest of us," said Kimberly Rogers, Co-founder of 50 Back Brewing Company. We wanted to find a way to recognize their efforts."
Pepperell, MA (PRWEB) May 14, 2011
50 Back, The Brew of the Brave has invaded North Carolina. The American-style lager, which donates 50% of its profits to veteran's organizations, is now available in Harris Teeter stores statewide.
50-Back was created by Massachusetts residents Paige Haley and Kimberly Rogers. Newcomers to the beer industry, Haley and Rogers came up with the idea of 50 Back after searching for a way to give back to Troops and Veterans. For every purchase of 50 Back Lager, the company donates 50% of its net profits to charities committed to supporting veterans and active duty service members and their families, all of whom who have sacrificed to protect our Nation and the freedom for which it stands.
50 Back has signed a distribution agreement with Tryon Distributing Company and is now available at all participating Harris Teeter stores throughout the State of North Carolina.
"We're proud to be the first company to bring 50 Back to North Carolina," said Jennifer Thompson, director of communications at Harris Teeter. "We always look for ways that Harris Teeter can support military families and veterans' organizations. As expected, 50 Back has been warmly received by our customers and we have already conducted number of successful introductory tastings at our stores."
Tryon Distributing Company, a wholesale distributor of fine domestic and imported wines and high quality beers, will spearhead the distribution of 50 Back across North Carolina. "We strive to offer a product of the highest quality to customers across North Carolina. 50 Back fits that category – not only because of the quality of the beer, but also because of the quality of their mission," said Brad Johnston, President of Tryon Distributing. "Our customers appreciate this initiative and have generated a tremendous demand for the product."
50 Back Beer is currently supporting four national veteran support organizations, including the USO, Homes for Our Troops, the Ahern Family Charitable Foundation, and America's VetDogs. More information about the charities can be found at http://www.50back.com/charities/.
"Veterans and their families sacrifice every day for the rest of us. We wanted to find a way to recognize their efforts," said Kimberly Rogers, Co-founder of 50 Back Brewing Company. "Now when the citizens of North Carolina toast the sacrifices of the brave service men and women, they can support them in a concrete way by helping the charities that assist them."
About Harris Teeter – Harris Teeter, Inc., a wholly-owned subsidiary of Ruddick Corporation, is a food market chain that operates in the eight-state area of North Carolina, South Carolina, Virginia, Georgia, Tennessee, Florida, Maryland and Delaware. The company also operates stores in the District of Columbia. In addition to our 201 retail stores, we also operate grocery, frozen food, and perishable distribution centers in Greensboro and Indian Trail, NC, as well as the Hunter Farms milk and ice cream facility in High Point, NC. We are headquartered in Matthews, NC and currently have approximately 22,000 employees.
About Tryon – Tryon Distributing was formed in 1985 by two men with an idea. The idea was to create a company which would distribute high quality wines to a select group of customers in the Charlotte area. From that humble beginning, distributing in only three counties, Tryon Distributing Company has grown to be North Carolina's premier wholesale distributor of fine domestic and import wines and high quality beers from around the nation and the world.
# # #