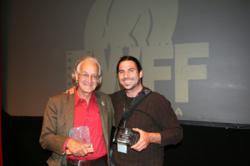 (PRWEB) May 17, 2011
A series of action-packed science videos, central components of Pearson's middle grades Interactive Science curriculum programs for U.S. students, was honored as a finalist for Best Children's Program at the International Wildlife Film Festival (IWFF). The Untamed Science videos, created by a globe-trotting team of young scientist "eco-geeks," are bringing real-life adventures directly to students across the nation every day.
Rob Nelson, host, lead producer, and director for Untamed Science, said, "Learning science should be fun, provocative and easy, not intimidating and tedious. We are extremely passionate scientists, educators, and filmmakers who revel in our job of bringing the excitement, mystery and fascination of science into classrooms every day."
He added, "Since 2009, our team has worked with Pearson to create quality educational videos that encourage kids to never stop exploring their world. We are incredibly honored that the International Wildlife Film Festival has recognized the value of what we are doing to help create a generation of kids who love going along with us on our treks to investigate earth's wonders."
Lynda Cloud, head of Pearson's science programs, said "Being named as a 'Best Children's Program' finalist by the International Wildlife Film Festival is a testament to the power of digital learning and to the uniqueness of the mission of the Untamed Science team. Teachers everywhere are telling us that their students are thoroughly captivated by the way Untamed Science has brought science to life for them. The dynamics and discourse in the classroom really change as students become immersed in these real-life adventures."
The full Untamed Science video series, which includes high school and elementary science topics, was also named "Best of Category" in the Internet Video/Program division. These videos infuse every chapter of Pearson's science programs with enthralling and thought-provoking explorations. Students can follow the eco-geeks through their online video blogs and podcasts as they travel the globe in search of answers to the wonders of science.
Described as science reality TV, the Untamed Science videos accompany Pearson's Miller & Levine Biology and Pearson Chemistry high school programs and the Interactive Science curriculum for the elementary and middle grades.
As a part of the Interactive Science program, Untamed Science videos complement the spectrum of topics explored in the curriculum and are tailored to the specific age range of students. Sixty-five videos on earth science, life science, chemistry, physical science and technology are geared toward the middle grades. Elementary grade students are privy to an additional 80 videos, each researching a different science question through an adventurous field trip, an experiment, and a fun music video.
More than 30 Untamed Science videos complement each chapter of Miller & Levine Biology, with lessons on human biology, ecology, evolution, cell biology, and genetics.
Slated for release in August 2011, the Chemistry video series is designed to help students see how practical chemistry is applied in the real world. Twenty-five new chemistry videos include global adventures, interviews with real practicing chemists, and visits to industrial sites to see chemistry in action.
Educators, students and parents can follow the eco-geek's adventures at http://www.untamedscience.com or on Twitter at @UntamedScience.
About International Wildlife Film Festival (IWFF)
In its 34th year, IWFF is the longest-running wildlife film festival in the world that emphasizes conservation and honors quality filmmaking. IWFF's mission is to promote awareness, knowledge and understanding of wildlife, habitat, people and nature through excellence in film, television, and other media.
About Pearson
Pearson has a vision of effective education: a virtuous circle of learning where powerful technologies enable teachers to assess students unobtrusively, diagnose their learning needs swiftly, prescribe personalized learning, monitor student progress, and provide ongoing feedback to students, teachers, and parents. It begins by optimizing assessment data and putting it to work for continuous improvement in student progress and teaching effectiveness. For more, visit http://www.pearsonschool.com.
Contact: Stacy Skelly, 800-745-8489
# # #