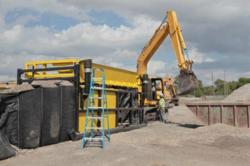 "For a 4-foot tall, 100-linear-foot wall it would have taken about 7,800 traditional sandbags to provide that type of flood protection. We can do that with just 34 TrapBag containers. " -- Buzz Waid, President TrapBag
Pontchartrain, LA (PRWEB) May 14, 2011
The Pontchartrain Levee District has contracted with Sentinel Barriers of Fort Myers, Fla., and AmeriGlobe of Lafayette in a joint venture to provide materials for temporary levees as the Mississippi River is expected to crest in the coming days.
Sentinel Barriers will provide two miles of sand-filled levees with its patent-pending TrapBag container barrier system to prevent the river from flooding the area. Sentinel Barriers trained workers May 13, and installation work began shortly thereafter. The project is expected to be completed within three days.
The Pontchartrain Levee District is responsible for 115 miles of East Bank Mississippi River Levee and an additional 10 miles of Hurricane Protection Levee in St. Charles Parish. TrapBag will place two miles of its 4-foot barrier system atop levees at sections 688 through 702, bringing the height of the levee from 48 feet to 52.
TrapBag® container barrier systems are designed to keep the river's water flowing in its natural path. They've been used this flood season with success in both the Red River of the North flooding at Fargo and the Ohio River flooding in Illinois.
The TrapBag brand of portable barriers is a rapid and low-cost deployment container system whose uses include flood control, erosion control, mudslide repair and prevention, pollution spill barrier and other applications where a secure container barrier system is needed.
TrapBag barrier system incorporates a series of 100-foot-long pentagon-shaped containers with a common flexible portion separating each individual cell. They are connected side by side like an accordion, with separate cells within, making it easy to deploy and store. Each cell is sloped on one side, vertical on the opposite side and open at the top for filling.
TrapBag barrier system segments are hung on a guide rail system of a mobile delivery device where they are filled with sand or gravel (or other fill material) from a front-end loader, excavator or other heavy machinery. A tractor pulls the delivery system while the hopper is loaded to fill each cell. A crew of four can provide up to one mile of TrapBag barrier protection in about 24 hours.
"For a 4-foot tall, 100-linear-foot wall, as is the case in Pontchartrain, it would have taken about 7,800 traditional sandbags to provide that type of flood protection," Waid points out. "We'll do each 100-foot-long barrier with just 34 TrapBag container barriers. TrapBag barrier systems as a flood-protection measure are considerably less labor-intensive and significantly more cost-effective and safer than other methods."
About Sentinel Barriers:
Sentinel Barriers President Everette "Buzz" Waid invented the TrapBag container barrier protection system after helping the town of Fort Myers Beach, Fla., recover from Hurricane Charley in 2004. TrapBag barrier systems have also been proven effective in the Florida Everglades and other major projects. The company has extensive experience in providing barrier protection, and is presently providing assistance to state departments of transportation for primary flashflood erosion protection and mudslide abatement, as well as bridge-foundation protection. Waid can be reached at (239) 229-5285 and Buzz(at)TrapBag(dot)com.
# # #