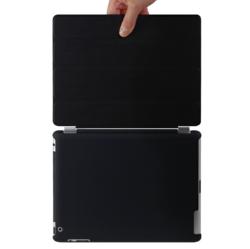 Irvine, CA (PRWEB) May 16, 2011
Today, Incipio—the leading manufacturer of innovative cases and power solutions for smart phones, tablets, and notebooks—released its latest innovative product, the Smart feather® for iPad 2. The much-anticipated Smart feather® has been creating buzz on the blogosphere, Twitter and Facebook alike since Incipio announced its plans to release the case last month. As its name suggests, the Smart feather® integrates the Apple Smart Cover with Incipio's best-selling, lightweight, hard shell feather® case for the iPad 2.
The Smart feather® addresses two major issues that iPad 2 users experience when using the Smart Cover: scratching and accidental detachment. The Smart Cover only protects the screen of the iPad 2 leaving the back of the device uncovered. Additionally, the Smart Cover is secured to the iPad 2 via two small magnets connected by a small metal spine located on the edge of the cover. These magnets become detached easily during use. To solve these problems, Incipio custom-molded its feather® case to fit the contours of the iPad 2 and accommodate the "spine" of the Smart Cover thereby protecting the back from scratches while securing the Smart Cover in place.
In addition to exceptional functionality, the feather® line from Incipio is widely recognized for its sleek look and feel. The Smart feather® is no exception. At one millimeter thick and just over two ounces, the fan favorite feather® offers style and protection without the added weight or bulk. The case snaps on and off the iPad 2 with ease and provides full access to all ports and speakers. The new Smart feather® product will be available in 11 colors which correspond to the existing colors of the Apple Smart Cover.
The Smart feather has already received rave reviews from those who have seen pre-production samples. Peter Rojas, co-founder of the website gdgt which also has a series of "gadget" oriented events of the same name, said that "the Smart feather® is amazing, so light" after seeing the case at gdgt San Francisco in May 2011.
In keeping with its commitment to provide high quality products at tremendous value, Incipio has listed the Smart feather® with a suggested retail price of $34.99. The Smart feather® is intended to work with the Apple Smart Cover and should not be used separately. To find other Incipio cases specifically designed for the iPad 2, visit http://www.myincipio.com.
STAY IN THE KNOW
Facebook at http://www.facebook.com/incipio
Twitter @myincipio
Website: http://www.myincipio.com
About Us: At Incipio we dream big and never settle for the status quo. Our sole focus is to provide customers with accessories that look as good as they function. Headquartered in Irvine, CA, we have people in London, Hong Kong, and India, allowing us to reach our customers and work on projects 24/7. Our dedicated staff does just that. At 140 strong, our team includes some of the most talented industrial and graphic designers, mechanical engineers, customer satisfaction fanatics and software developers around, all led by a world-class management team. Our shared love for mobile devices and accessories fuels our passion to create the best accessories on the planet. In the past 12 years, we have gone from operating out of a suburban garage to being widely recognized as one of the most innovative mobile accessory makers in the world. And we're just getting started…
###