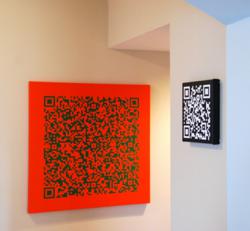 Customers have chosen to embed a favorite quote, song lyric or simply recounted a personal memory with their dad.
Boynton Beach, FL (PRWEB) May 17, 2011
For those struggling to find that perfect gift for your tech-savvy gadget-loving dad this Father's Day, consider creating and gifting a personalized piece of barcode art from Barcode Gallery (http://www.barcodegallery.com). On their site, users are able to create customized pieces of modern art leveraging the growingly popular QR Barcode technology. The end result is the creation of a ready-to-hang piece of colorful modern art that dad will be proud to display at home or at the office.
And while the colorful art is sure to attract attention, it is the ability to embed a personalized message into the artwork that makes this a truly unique hi-tech gift. Customers may encode a message, up to 300 characters in length, that will only be revealed when the artwork is scanned using any number of freely available barcode scanning applications on their camera-equipped smartphone. The artwork may be produced as a ready-to-hang canvas or printed on ready-to-frame archival paper in sizes ranging from 10" to 40" square.
"The ability to share a very personal message within this product makes it a great Father's Day gift," comments Barcode Gallery owner, Christopher Colbert. "Customers have chosen to embed a favorite quote, song lyric or simply recounted a personal memory with their dad."
For the college fan dad or grad, Barcode Gallery has developed a series of college-themed products which feature the school's official colors and reveal the words to the school's fight song or Alma Mater when scanned. Users may still add a short personal message following the song lyrics which ensures that the final product is a one-of-a-kind personalized piece of art.
Have a great photo of you and your dad? Barcode Gallery's Expressions product provides the ability to display a favorite photo alongside a personalized barcode message. The 8 x 10" finished product comes in a beautifully matted and framed presentation and is another great gift idea for the tech-savvy dad who will be thrilled to show-off the barcode scanning capability of his latest smartphone.
Through Father's Day, Barcode Gallery is offering a 10% discount on all orders along with free shipping (see website homepage for details). To learn more about these unique gift ideas or to place an order, visit the Barcode Gallery website at http://www.barcodegallery.com.
###