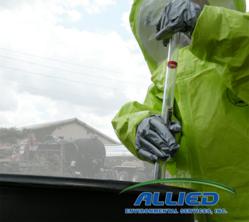 it was imperative that Allied be able to assist the region with environmental clean-up when accidents and spills occur
Lima, Ohio (PRWEB) May 18, 2011
Allied Environmental Services, Inc. (Allied) of Lima, Ohio announced that its emergency spill response crews have completed Rail/Roadway Worker Protection training and certification. The training is sanctioned by rail industry leaders CSX and Norfolk Southern and is part of an extensive training program that all emergency responders must complete prior to conducting operations for rail spills and derailments.
For more than a decade, Allied has provided emergency spill response services for roadway spills and releases from manufacturing facilities throughout northwest and west-central Ohio. "All Allied crews are Hazardous Waste Operator (HAZWOPER) trained and we have responded to hundreds of chemical, hazardous materials and petroleum spills along Ohio roadways, waterways and at industrial facilities", stated Dan Clemens, Allied Operations Manager. "Northwest Ohio has seen a significant increase in the volume of rail transport in recent years, so it was imperative that Allied be able to assist the region with environmental clean-up when accidents and spills occur", added Clemens.
Allied emergency response crews will continue the training program by completing E-Railsafe Class1 Railway certification in June.
Those with questions regarding emergency spill response and hazardous materials management can call Allied directly at (419) 227-4004.
About Allied Environmental Services, Inc.
Allied Environmental Services, Inc. (Allied) is an environmental consulting and contracting firm located in Lima, Ohio. For over 24 years, Allied has provided professional environmental management solutions to property owners, lenders, municipalities, schools, hospitals, and private industry. Allied specializes in hazardous waste management, emergency spill response, industrial cleaning, asbestos abatement, underground storage tank closure, Phase I ESA, and air quality testing.
For more information please visit us on the web at http://www.allied-environmental.com.
###