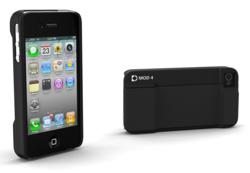 MOD 4 is the first camera-shaped case for the Apple iPhone 4. It's a revolution in what a case can bring to the already revolutionary smartphone.
New York, NY (PRWEB) May 18, 2011
Dacha Works, LLC announced today it has begun shipping its revolutionary MOD 4 case for the Apple iPhone 4. The New York City-based design company introduced MOD 4 in late 2010. Since it's unveiling, the case has drawn praise for it's forward thinking approach to optimizing the iPhone's form.
Besides providing excellent protection, Dacha Work's MOD 4 brings several revolutionary changes to iPhone case design. First, it has two ergonomic, low-profile grips that make the iPhone easier to handle.
In addition to the grips, two high-quality textures cover the MOD 4 case. A pebbled-leather texture improves handling along the center of the case. A micro-texture matte surfaces a pleasing feel to the fingers holding the phone in any orientation. Both textures are reminiscent of classic German-engineered rangefinder film cameras by companies such as Leica and Zeiss.
MOD 4 cases currently ship online at dachaworks.com for $19.95.
Dacha Works is also pleased to announce that Fotocare will be selling MOD 4 cases from it's New York City retail location at 43 West 22nd Street. Since 1968, Fotocare has been leader in outfitting the professional photographic community. For more information about the legendary retailer, visit http://www.fotocare.com.
Dacha Works, LLC is a design and manufacturing company started in 2009 and based in New York City. In addition to creating completely new product designs, it runs dachawork.com, and online source for the best in design, tech, film and art.
# # #