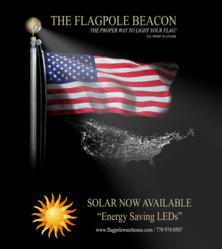 There were many inquires about a solar version when we launched the original Flagpole Beacon, but we just had to wait for technology to catch up.
Acworth, GA (PRWEB) May 19, 2011
Sometimes a good thing can get better and that's just what The Flag Company, Inc. is doing today with the introduction of their new Solar Flagpole Beacon—one step up from their popular, ingenious, and best-selling Flagpole Beacon with their patented down lighting spotlight design. Perched atop a flagpole, the beacon illuminates flags in an innovative, energy-efficient way.
Launched January 2011, the Solar Beacon is anticipated to be a strong seller based on enthusiastic previous interest by The Flag Company's clientele, already enchanted with the original Flagpole Beacon. The Solar Flagpole Beacon is the "natural next step," according to Mike Lawrence, Vice President of The Flag Company, Inc. "It takes the Flagpole Beacon to the next level," he asserts, and as can be seen at http://www.flagpolewarehouse.com.
"There were many inquires about a solar version when we launched the original Flagpole Beacon, but we just had to wait for technology to catch up," explains Lawrence. "We knew what we needed to create the solar version, but the components were not readily available."
With a solar panel installed either on the top or side of the flagpole, it can be charged within two hours, providing up to 18 straight hours of a six-watt, LED light (two bulbs), equaling the brightness of two 25-watt MR-halogen bulbs. LED bulbs are a cooler 3000K light source and last much longer than regular incandescent and fluorescent bulbs. (50,000 hr) The 20" X 18" panels start at 20 watts.
Existing Flagpole Beacons can be easily upgraded to a solar version. In addition to the energy saving features of the Solar Beacon, other noteworthy benefits of the new Solar Flagpole Beacon are that the solar panels charge on cloudy days, and have the same environmentally friendly features as the regular Flagpole Beacon: downlighting, no light trespass, and no light pollution. Contrary to traditional, outdated flagpole lighting methods, The Flag Company's patented design utilizes a focused beam from the top of the pole down onto the flag, lighting specifically the flag. This results in a more energy-efficient and cost-efficient method for night lighting, as well as a more respectful and continual method of illumination.
Now with the solar version, Lawrence notes that their advanced technology control boards keep the system simple, with less to fail.
The Flag Company, Inc. has a specialized division to work with general contractors, architects, and government agencies for projects with flagpoles. Flagpoles from 20' to 70' are in stock in a variety of finishes. There are Flagpole Beacon models for internal and external halyard configurations, both for commercial applications and for residential use. Quotes are furnished on a per-job basis. The solar application is ideal for memorials, remote locations, and other situations where no power source is a readily available. The Flagpole Beacon also can be retrofitted to existing flagpoles for those who want to upgrade to a more environmentally friendly light source. Detailed specifications are readily available at http://www.flagpolewarehouse.com.
About The Flag Company, Inc.:
The Flag Company, Inc. offers a complete range of flags and flag-related products. Custom screen printing and digital printing are available for special events, corporate logos, etc. Stock merchandise includes U.S., state, international, and military flags and all types of accessories such as bunting, memorial cases, pennants and more. The Flag Company, Inc. is the nation's largest producer of message flags, offering over 300 different messages, which are used by realtors, restaurants, car dealerships, and any host of companies imaginable. A constant hot item is toothpick flags—in stock and available for state, countries, and holidays and produced on a custom-order basis for corporations and special events. The complete product line can be viewed at the website http://www.flagco.com.
###