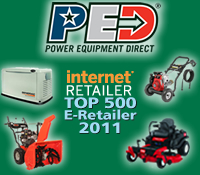 Power Equipment Direct grew their web sales more than 70% in 2010 and that's a testament to their staying power as an online retailer
(PRWEB) May 18, 2011
Today Power Equipment Direct announced it made Internet Retailer's Top 500 list for the fourth consecutive year.
The online power equipment retailer ranked as the 250th largest e-retail company in the United States and the 9th largest e-tailer in the hardware/home improvement category by Internet Retailer magazine.
Internet Retailer's definitive ranking and analysis of America's 500 largest e-retailers is based on annual 2010 Internet sales, researched by Internet Retailer and confirmed by retailers. This report includes company financial, operational and performance data, as well as vendors in key categories.
"Power Equipment Direct grew their web sales more than 70% in 2010 and that's a testament to their staying power as an online retailer," says Mark Brohan, vice president of research for Internet Retailer and editor of the Top 500 Guide. "After investing significantly in more niche opportunities in 2008, that investment began returning dividends last year."
See Power Equipment Direct's 250th Rank from Internet Retailer.
Jon Hoch founded Power Equipment Direct in his basement after an awful experience shopping for a lawn mower in 2002. Today, the Bolingbrook, IL-based e-commerce company operates nine niche web sites, generating nearly $50 million in annual sales.
The online power equipment retailer is experiencing significant growth in 2011. In the first quarter alone, Power Equipment Direct's sales grew 40% compared to the same quarter in 2010.
"We consider it an honor to be ranked among the largest home improvement retailers in the world," said Hoch, founder & CEO. "The results are remarkable, considering we only sell products in nine niche categories."
Published by Chicago-based Vertical Web Media LLC, Internet Retailer is a monthly national business magazine that is at the core of the leading retail information web site, an e-commerce conference and four directories that serve the retailing community. Internet Retailer's 42,500 subscribers and 250,000 monthly web readers represent senior executives primarily from retail chains, independent stores, catalogs, virtual merchants and brand name manufacturers. Internet Retailer's circulation represents the largest multichannel readership base of any retailing magazine.
Power Equipment Direct operates nine niche online superstores. The Bolingbrook, IL-based company operates AirCompressorsDirect.com, ElectricGeneratorsDirect.com, PressureWashersDirect.com, SnowBlowersDirect.com, MowersDirect.com, WaterPumpsDirect.com, SumpPumpsDirect.com, ChainSawsDirect.com and LogSplittersDirect.com.
###