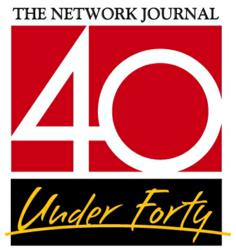 TNJ brings these accomplished professionals to the attention of our vast network of corporate affiliations," says Aziz Gueye Adetimirin, TNJ's founder, publisher and CEO
(PRWEB) May 19, 2011
This year's class of honorees hails from a diverse range of industries, including media, technology, arts, culture, finance, and healthcare. TNJ will honor them on Thursday, June 16, 2011, at its 14th Annual 40 Under Forty Achievers Awards Dinner, to be hosted by Sharita Brantley, Segment Producer for CNBC and Terrance McKnight, Classical 105.9 FM WQXR Host. The event will be held at the Crowne Plaza Hotel in Times Square, New York City, from 6:30 p.m. to 10:00 p.m. The dinner is sponsored by Wells Fargo and WBLS Radio.
TNJ created the 40 Under Forty Achievers Awards in 1997 to publicly recognize the next generation of African-American leaders who already are exceptional performers in their respective industries, and who are committed to the development of their community. Competition for the awards has become increasingly intense, with the number of entries growing exponentially each year, and the achievements of the entrants more and more amazing. It is almost presumptuous to choose winners, for clearly there are no losers among these candidates. TNJ salutes them all – both those who made the honoree list and those who did not.
"As we celebrate the 14th year of our 40 Under Forty Achievers Awards, TNJ cherishes its role as a facilitator for our up-and-coming African-American men and women to progress even further in their careers. Through events such as our recognition awards program, TNJ brings these accomplished professionals to the attention of our vast network of corporate affiliations," says Aziz Gueye Adetimirin, TNJ's founder, publisher and CEO.
This year's honorees follow in the footsteps of such notable winners as Soledad O'Brien, anchor and special correspondent for CNN/US; Randall Pinkett, BCT Partners; and actor Malika Yoba.
This year's honorees are:
Mikiyon W. Alexander, Standard & Poor's
Adisa P. Bakari, Dow Lohnes Sports & Entertainment
Keith A. Beauchamp, Till Freedom Come Productions, LLC
Edward A. Cates, Nuance Marketing, LLC
Nsenga Magnus Farrell, Ogilvy & Mather New York
Nadine Joseph Gibson, Jones Lang LaSalle
Marcus Glover, Caesars Entertainment Inc.
Marlie Hall, Marlie Hall Enterprises LLC
Glenn E. Hames, UNCF Special Programs Corporation
Robert L. Howard, Jr., Ph.D., NASA Johnson Space Center
Major Don P. Hursey, U.S. Army / Office of the Secretary of Defense for Policy
Nicole Johnson, Fox 5 News WNYW
Ogori N. Kalu, MD, Summit Breast Care, LLC
Michelle L. Marshall, Mullen Advertising Agency
Depelsha McGruder, Centric/BET Networks
Karine T. Méhu, ESPN
Claudine Moore, C. Moore Media, International Public Relations
Khalil Gibran Muhammad, Schomburg Center for Research in Black Culture, NY Public Library
Monique L. Nelson, UniWorld Group, Inc.
James Nixon, CNN
Ikenna W. Okezie, MD, DaVita, Inc.
Helisse D. Palmore, Hempstead Public Schools
Fred Perpall, The Beck Group
Antonious Porch, Nickelodeon - MTV KIDS & Family
Robert Reffkin, Goldman Sachs
Rodney J. Sanders, Merck & Company
Dante Simpson, DSA Media Group, LLC
DaMar Smith, News Corporation
Toya Lynn Spencer, Abercrombie & Fitch
Karrien A. Stone, Target Corporation
Keisha Sutton-James, ICBC Broadcast Holdings, Inc.
Chris Thomas, General Electric Company
April L. Watkins, Burger King Corporation
Dawnita Wilson, University of Pittsburgh Medical Center
Amos Winbush, III, CyberSynchs
Sherise E. Wood, Sikorsky Aircraft
Andrè Antonio Woolery, MagnoGrip Inc.
Taffi T. Woolward, Dormitory Authority of the State of New York
Kiante Young, Young & Doin'It Magazine
Monaqui Porter Young, MPGlobal Connect Inc.
For more information about TNJ's 40 Under Forty Achievers Awards, please contact Denise Acquaye at denise(at)tnj(dot)com or 212-962-3791 x206
###