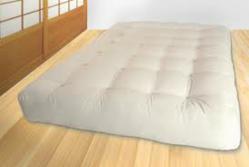 A fascinating Tour in the art of ancient futon making right here in San Francisco
San Francisco, CA (PRWEB) May 20, 2011
The Futon Shop, has been manufacturing futon mattresses in San Francisco since 1976. Tucked away in a 30,000 square foot factory located at 2150 Cesar Chavez St. on the border of the Potrero Hill Neighborhood in San Francisco The Futon Shop will operate tours open to the public the third Thursday of every month from 2-3 PM. The Futon Shop manufacturers Futon Mattresses for sofa beds and platform beds, Folding foam beds, custom mattresses as well as slip covers and pillows right here in San Francisco. The Futon Shop employees 50 Californians from Northern to Southern California in the 11 sofa bed showrooms as well as in the organic mattress factory in San Francisco. The Owner of all The Futon Shop Showrooms and Mattress Factory, Suzanne Diamond and her team will personally run the public tours and answer questions as well as give demonstrations on the art of Futon Making. During the tour guests will see and feel pockets coils in all standard mattress sizes, chemical free Dunlap Latex, Soybean based memory foams, organic cotton and wool, learn how cotton is felted and explore isles of decorator fabrics.
Observe the ancient art of organic futon mattresses being manufactured from start to finish. View fair trade American grown organic cotton and virgin wool being felted from bales from America's farmlands to finish bats of fiber for inclusion in each handmade futon mattress. Touch and feel the texture and strength of each ingredient use in the manufacturing The Essence Mattress Collection Chemical free Dunlap Latex, organic cotton and wool being the key ingredients of this mattress collection. Watch the layers of organic mattress ingredients piled 15 inches high as it is inserted into the futon mattress making machines.
Experience the natural wonder green and sustainable soybean based memory foams and pocket coils and participate in building your own temperpedic futon mattress. The Futon Shop's Royal Contour Futon Mattress Collection features soybean based foam futon mattresses in 5 different densities and firmness. It is amazing to watch how the layers of ingredients built a finish futon mattress. Included in the Tour will be viewing of a mattress tufting machine as it places 35 individual lace tufts, (like buttons) into each and every futon mattress with it's foot long needles that automatically ties and secures the ingredients inside each futon mattress. Touch and feel all the Natural ingredients used in manufacturing these San Francisco based futon mattresses.
The Tour will conclude in the futon mattress and futon frame testing showroom. Where samples of each futon manufactured is displayed and can be tested by each participant. While siting on each mattress experience the benefits of the ingredients you viewed during your tour and see how they affect the softness or firmness of each futon mattress. Resilient Soy based memory foams will feel different than latex, wool will feel different than cotton, pocket coils will feel different than bonnel coils. The tour guide will explain the benefits of each ingredients and how it affects the support and lifetime of each futon mattress.
You can purchase any of the 33 unique and natural futon mattresses offered or design your own custom mattress.
Call 1-888-821-1997 to schedule your school, group or individual tour.
###