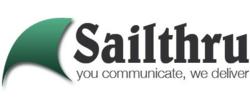 Too often, employees casually pass around lists of email addresses, putting a company at risk for a serious security breach or even data theft.
New York, NY (PRWEB) May 20, 2011
In the wake of recent high-profile data breaches that leaked users' personally identifiable information (PII), Sailthru today announced the implementation of a new security feature that safeguards sensitive customer data. Sailthru, an industry-leading provider of innovative, intent-based email marketing solutions, has introduced two-factor SMS authentication to its cutting-edge email marketing platform.
PII is information that can be used to uniquely identify a single individual, like an email address, website browsing behavior or purchase transaction history. To date, two-factor authentication has been used successfully on webmail platforms such as Google Gmail as a way of verifying identity to protect a user's account from fraudulent access.
However, Sailthru is the first and only email service provider to require two-factor authentication when a customer downloads emails lists or performs other sensitive actions in the account administration area.
"Too often, employees casually pass around lists of email addresses, putting a company at risk for a serious security breach or even data theft," said Ian White, CTO for Sailthru. "Raw email address data is personally identifiable information that most employees never need to access -- especially for non-technical purposes like campaign reporting or list segmentation -- and is a valuable asset to protect."
With Sailthru's two-factor authentication procedure, users supply a telephone number where they can receive an SMS, or text message, to verify high-risk actions. Initially, raw email addresses can only be accessed by the customer's highest level "super administrator" user account; though that super administrator can subsequently grant access to other users. This procedure introduces the principle of least privilege to our customers, ensuring that their employees receive only those privileges which are absolutely essential to their work, thereby protecting their users' sensitive PII.
"After last month's serious data breach at Epsilon, many of our competitors doubled up their marketing efforts, blogging and tweeting at customers with suggestions, like 'Take your data security seriously' and 'Update your privacy policies,'" said Neil Capel, CEO for Sailthru. "But at Sailthru, we doubled up on our development efforts, so we could fast-track the roll-out of our two-factor authentication feature -- which goes the extra mile to safeguard users' personally identifiable information."
Sailthru has also implemented more stringent security measures in-house, so the company's account managers and support staff now have the same limited access to raw email data that they recommend for most account users.
About Sailthru
Sailthru helps companies connect with their customers through hyper-personalized email, web and advertising content. Sailthru's behavioral email solution, Horizon, has been proven to increase industry-standard open and click-through rates by more than 50 percent; while Concierge, the company's on-site content recommendation engine, actively increases pageviews, conversion rates, ROI and lifetime value every time a visitor clicks. Sailthru's clients include Huffington Post, AOL, Business Insider, Thrillist, Flavorpill, Daily Candy Swirl, Journelle and many more.
For more information, visit http://www.sailthru.com
###