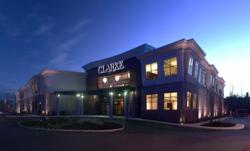 With Chef Ming Tsai taping his Emmy-nominated television show at Clarke, we're looking forward to his first meal prepared with solar power!
Milford, MA (PRWEB) May 20, 2011
Clarke, New England's exclusive distributor of Sub-Zero and Wolf appliances, will reach Net Zero electrical energy consumption at its 106,500-square-foot headquarters complex in Milford, MA by the end of the summer. This achievement is the culmination of a decade-long goal to utilize solar energy and Clarke's massive roof to power all operations for the company's offices, high-performance appliance showroom, culinary center, television studio and warehouse, which serve homeowners and the design community throughout New England.
The Clarke solar project ranks in the top five rooftop installations in Massachusetts and the largest using American-made Solyndra solar panels.
"It has been our goal to utilize materials made in the United States, as well as local installers, for this solar project," said Tom Clarke, CEO of the award-winning appliance distribution company. "Sub-Zero and Wolf appliances are made in the U.S. and we wanted to continue our dedication to keeping jobs and resources inside this country while becoming energy independent. We're proving that it can be done."
Clarke General Manager Sean Clarke, along with Clarke Director of Finance and IT Chris Parker, have spearheaded the project, diligently researching ROI, federal and state grants, American-made products and solar resources.
"Clarke has a massive roof with little tree cover on a hill in Milford, MA and it was crazy not to take advantage of this set of circumstances to blaze a trail of energy independence," said Sean Clarke. "We chose to use Beaumont Solar Company of New Bedford, MA as our installation partner on the project. From the first time we met with Beaumont President and CEO Phillip Cavallo, we knew his company had the same philosophy that we did. They are the largest solar installer in Southeastern Massachusetts, one of the top three in the Commonwealth and perform the entire installation process using their own internal company employees. They were very passionate about sourcing American-made products and together we found Solyndra in California and formed an alliance to bring this project to fruition."
According to Parker, Clarke will generate 94% of its electrical energy through solar power generated by the Solyndra panels. In addition, Clarke has been taking serious steps to reduce its energy consumption by 6% through internal efficiencies. The combination of these activities will result in Net Zero electrical energy consumption and a savings of more than $77,000 each year.
The Clarke solar installation launched with rooftop activity at the end of April, with conversion of the building's original ballasted roof to a "cool roof" surface, which required removal of all embedded stones and installation of a more energy efficient white roof surface to reflect the sunlight onto the entire cylindrical surface of the Solyndra panels, making the roof part of the specified energy property.
On May 6, six 53-foot rail containers carrying 2,304 200-watt solar panels left Solyndra in Freemont, CA to make the journey to Massachusetts. The Solyndra panels are being unloaded on site in Milford the week of May 16th and installation will begin. The solar panels selected are actually comprised of a set of tubes, rather than solid panels, which will eliminate the concern with kite effect and snow load on top of the panels.
"We're very excited about this project," said Sean Clarke. "We are chronicling the progress on facebook and will have a lobby display to educate our visitors about solar energy. We look forward to our ribbon-cutting event in late summer and the opportunity to operate totally off the grid. With Chef Ming Tsai taping his Emmy-nominated television show here, we're looking forward to his first meal prepared with solar power!"
For more information, visit "Clarke Appliance Showrooms" on Facebook, or visit their website at clarkecorp.com.
About Clarke
This award-winning distributor of appliances from Sub-Zero, Wolf and Asko, provides expansive showroom resource centers in Milford, MA and South Norwalk, CT, where homeowners can learn about and experience these appliances in dramatic kitchen vignettes, without any pressure to purchase. Clarke distributes these brands through an exclusive network of retail appliance dealers throughout New England. Clarke also offers Clarke Customer Care, a dedicated repair service for their brands, that has earned them "Best in the US" satisfaction survey results. The company also runs The Clarke Culinary Center inside their showrooms to offer cooking classes taught by New England's finest chefs. For more information, visit http://www.clarkecorp.com.
# # #