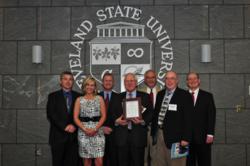 Our management belief is that companies with employer-supported volunteering programs find that employees are proud to work for them; potential employees want to join them; and customers feel good about buying from them,"
Rick Jones, Stanek Windows
Cleveland, OH (PRWEB) May 21, 2011
Stanek Windows was recognized today with the Crain's Leading EDGE award, that recognizes top value-creating middle-market companies in Northeast Ohio. The recognition dinner took place at Cleveland State University, in Cleveland, Ohio.
"Northeast Ohio is fortunate to have many outstanding middle-market companies that make up the vast majority of the growing portion of our economy," D. Kirk Neiswander, President of The Entrepreneurs EDGE, said. "This award is a great way to bring attention to this valuable and significant group of businesses."
"One of the benefits of participating in this process," Neiswander continued, "is that our metrics measure the value mid-market companies are creating. The higher each company's value, the more the enterprise is contributing to the region in terms of good jobs and thriving, sustainable business."
The awards program honors approximately 80 companies this year, with a specific focus on those companies generating the highest value for themselves and the Northeast Ohio community and those companies committed to giving back to the communities where they do business.
During the course of the year, Stanek's dedicated associates in Ohio, Florida, and Wisconsin participate in many community outreach programs. The EDGE award recognized the Cleveland office for its annual food drive to benefit the Cleveland Food Bank. They are very active in the Cuyahoga Valley Chamber of Commerce. President and CEO Richard Jones and Stanek Windows were nominated for its Impact Awards for Person/Business of the Year for 2010 by the Mayor of the Village of Cuyahoga Heights. They also support the Cuyahoga Heights High School Work Ethic Certification Program, Boy Scouts of America, March of Dimes, and the Cleveland Southwest Safety Council.
"Our management belief is that companies with employer-supported volunteering programs find that employees are proud to work for them; potential employees want to join them; and customers feel good about buying from them," said Richard Jones, President and CEO.
The Entrepreneurs EDGE, a 501 (c) (3) non-profit organization, provides professional development, relationship-building and networking opportunities for middle-market company CEOs and leadership teams to help them build their businesses and grow in value.
Companies recognized must be located in the 17-county region of Northeast Ohio who export a portion of their goods and services outside the region and have sales from $1 million to $750 million.
ABOUT STANEK WINDOWS
Stanek Windows serves Western Florida, Northeast Ohio and South-Eastern Wisconsin with offices in Tampa/Clearwater, Florida; Cleveland, Ohio and Milwaukee, Wisconsin. The company offers a full line of energy-efficient windows, patio doors and exterior doors, as well as, siding, hurricane shutters and gutter systems. All Stanek Windows are independently tested and certified to area building codes, including impact windows for the strongest Florida hurricane-rated codes. For more information, contact Stanek Windows at 800-4-STANEK or visit http://www.StanekWindows.com.
# # #