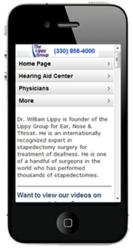 The opportunity to provide our website for all smart phones acknowledges our views on using technology to educate our patients and physicians worldwide.
Columbus, Ohio (PRWEB) May 24, 2011
Dr. William H. Lippy, one of the foremost expert surgeons in the field of hearing restoration announced today, that he and his partner, Dr. Leonard Berenholz, through their non-profit organization, the Warren Hearing Foundation, that the Lippy Group has mobilized their medical practice website. This will provide worldwide access to their website, including their online videos, using any smartphone.
"The opportunity to provide access to our website for all smart phones including the ability to watch videos related to our Hearing Aid Center and Physicians Library acknowledges our views on using technology to educate our patients and physicians worldwide," said Dr. Lippy. "The entire globe is rapidly adopting smart phones as the place where they want to communicate, find information and share with their friends. By mobilizing our website our patients have the option of accessing our site either on their smart phones or from their computers."
Dr. Lippy's son, David, who has provided eMarketing solutions to the practice for many years, had been urging the practice to consider taking the necessary steps that would allow all smart phone users the ability to access everything on the Lippy Group website. This would include the 26 physician videos and the 6 hearing aid center videos.
Dr. Lippy, who travels frequently and speaks worldwide as a guest lecturer noted, "David has been telling Dr. Berenholz and me for the past year that more and more people want to access information on their phones, however, our website was not originally designed for that purpose. When we learned we could mobilize our site for a reasonable cost, it was an easy decision to do this for our patients and the international medical community."
"I am fortunate that my father and Dr. Berenholz have always embraced new technology," said his son. "My father has spent years helping others and this is another example of Dad doing everything he can to make the world a more educated place. With more smart phones being sold now than PCs it's clear where and how we need to make our website information available. A mobilized site provides us the opportunity for Drs. Lippy and Berenholz's work to have an impact on a worldwide basis. To help make this happen for the practice is an awesome feeling."
To view the website from any smart phone and for additional information on Dr. Lippy, his practice and partners please visit http://www.LippyGroup.com.
About The Lippy Group:
Dr. Lippy is an internationally recognized expert in stapedectomy surgery for the treatment of deafness. He has performed thousands of stapedectomies, a surgery replacing one of the three tiny bones in the middle ear, the stapes bone, with a prosthesis to restore hearing. Dr. Lippy has published over 60 peer-review papers and a dozen book chapters. Dr. Lippy is one of the six original co-founders of The Israel Tennis Centers an international non-profit operating fourteen separate tennis centers throughout the state of Israel.
Dr. Berenholz is one of the leading surgeons for the placement of a device known as the BAHA (bone anchored hearing aid). The surgically placed device helps patients who have single-sided deafness or who are not reconstruction candidates and cannot benefit from a typical hearing aid.
# # #