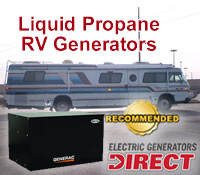 LP, or liquefied petroleum, can be easily transported and stored. Also, LP will not break down or deteriorate like gasoline when it's not used for a long period of time
Bolingbrook, IL (PRWEB) May 20, 2011
Today ElectricGeneratorsDirect.com announced its recommendations for top liquid propane RV generators.
"LP, or liquefied petroleum, can be easily transported and stored. Also, LP will not break down or deteriorate like gasoline when it's not used for a long period of time," said Jim Baugher, resident product expert at Electric Generators Direct. "LP burns clean and give off lower greenhouse gas emissions, which makes it a good fit for RV use."
According to Baugher, most retailers are loyal to whatever RV generators are on their shelves.
ElectricGeneratorsDirect.com, however, isn't your ordinary retailer. The online superstore specializes exclusively in electric generators and carries ten models of liquid propane RV generators from some of the nation's leading brands.
The online retailer combined retail prices, recent sales history, customer reviews and personal insight to generate their final recommendations.
Once the dust settled, only 3 liquid propane RV generators sold by ElectricGeneratorsDirect.com were given their prestigious "Recommended" status.
Top Liquid Propane RV Generators
Good - Generac Quietpact Series™ 5853 - 3.4 kW RV Generator (Liquid Propane)
Better - Generac Quietpact Series™ 5858 - 5.5 kW RV Generator (Liquid Propane)
Best - Cummins Onan RV QG6500 - 6.5kW RV Generator (Liquid Propane)
In addition, Baugher personally wrote online reviews for each liquid propane RV generator, explaining why the company recommended it.
By providing the recommendations and reviews, ElectricGeneratorsDirect.com hopes to arm shoppers with enough ammunition to pick the perfect liquid propane RV generator for their needs.
Power Equipment Direct operates nine niche online superstores. In addition to ElectricGeneratorsDirect.com, the Bolingbrook, IL-based company operates AirCompressorsDirect.com, PressureWashersDirect.com, SnowBlowersDirect.com, MowersDirect.com, WaterPumpsDirect.com, SumpPumpsDirect.com, ChainSawsDirect.com and LogSplittersDirect.com
###