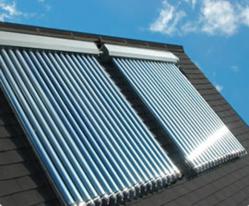 "2 years ago, we were selling a more complex system with less BTU's for 3 times the cost! "
Waitsfield, VT (PRWEB) May 22, 2011
Houseneeds.com, the Vermont-based internet seller of energy efficient, environmentally friendly heating and ventilation products has announced that they are introducing to North American homeowners their new HHNS Solar Evacuated Tubes System for home heating purposes.
The HHNS comes in 10, 20 and 30 tube sizes and larger systems can be easily made by joining multiple sets together. The HHNS 20 Tube System is rated for 27,000 Btu per day and is SRCC certified. All of the Tube Systems qualify for the 30% uncapped Federal Energy Efficiency Tax Credit that ends in 2016.
Houseneeds has Solar Heating experts that can help homeowners design their entire system. They can help choose the amount of tubes needed, the size of the Solar Storage Tank and Pump Station as well as all of the accessories like Flexible Stainless Steel and Mounting Systems. These systems are easy to install and do not need to be mounted on a roof.
"This system is so effective and easy," says Gary Johanessen, head of Houseneeds' sales department. "Two years ago, we were selling a more complex system with less BTU's for 3 times the cost! "
The HHNS 10 Tube System starts at $595.00. A typical complete 10 Tube system complete with a Solar Storage Tank, Solar Pump Station, Flexible Stainless Steel Tubing, and all needed accessories starts at $4075.00. This system does qualify for the Federal Tax Credit. That means 30 percent of the system cost back in the homeowner's pocket.
For more information, go to Houseneeds.com, or call 802-583-2726.
About Houseneeds.com:
Houseneeds.com was created in 1999 in the heart of Vermont's Mad River Valley. Houseneeds.com has made it their mission to bring the best in energy efficient environmentally friendly products from all over the world to homeowners across North America. Houseneeds.com offers Common Sense Heating, Cooling and Green Energy Solutions with a level of friendly expertise that cannot be rivaled anywhere. Contact us at 866-Heat-123 or visit our website 24 hours a day at Houseneeds.com
Contact
Gary Johannesen
Head of Sales
Houseneeds.com
802-583-5523
http://www.Houseneeds.com
About the Author
Joshua Meyer is a freelance journalist and artist based in Montpelier, VT. He received a Bachelor of Liberal Arts from Goddard College in Plainfield, VT in 2000. His focus is on Energy efficient Home products and Green Technology.
# # #