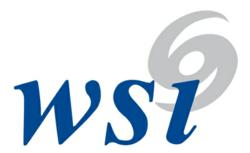 Most of the important drivers for tropical activity continue to indicate that an 'active-normal' season lies ahead of us.
Andover, MA (PRWEB) May 25, 2011
Outperforming other, primary, public forecasters on named storms by 25% since 2006, WSI (Weather Services International) predicts 15 named storms, 8 hurricanes and 4 intense hurricanes (category 3 or greater). These 2011 forecast numbers are above the long-term (1950-2010) averages of 12 named storms, 7 hurricanes, and 3 intense hurricanes and match the averages from the more active recent period (1995-2010) of 15/8/4. The current forecast numbers are not changed from the April forecast numbers.
"Most of the important drivers for tropical activity continue to indicate that an 'active-normal' season lies ahead of us," said WSI Chief Meteorologist Dr. Todd Crawford. "Since the most recent active tropical period began in 1995, we have averaged 15 named storms, 8 hurricanes, and 4 intense hurricanes per year. Since tropical Atlantic sea surface temperatures are quite close to the 1995-2010 mean values, and since we do not expect either an El Nino or La Nina to develop this summer, our statistical model has output forecast numbers that exactly match those for the current active period, or 'active-normal' numbers. We do expect another active season in 2011, although not to the level of 2005 or 2010. However, while we expect less overall activity this year than last, we do expect a much more impactful season along the US coastline. The US has been spared from any landfalling hurricanes since 2008; and the hurricane drought in 2009 and 2010 is relatively rare in the historical record. In fact, the US has not had a three-year stretch without a hurricane landfall since the 1860s. Further, 80 percent of all years in the historical dataset have had at least one hurricane landfall in the US. Our recent good fortune in avoiding landfalling hurricanes is not likely to last."
Crawford also indicated that the Gulf Coast was under a significant threat for hurricane landfall in the upcoming season.
"The lack of US landfalls in 2010 was primarily due to a persistent western Atlantic trough that essentially protected the US East Coast from any direct hits. We do not expect this feature to be in place this year during late summer and fall when most tropical storms occur. Further, the Gulf and Caribbean sea surface temperatures are particularly warm this year; and we expect more development in these regions and less in the eastern tropical Atlantic. Storms developing in the Gulf and Caribbean are a much greater threat to make landfall along the US coast than those that develop off the coast of Africa. For this reason, and since our hurricane landfall prediction model suggests sharply increased chances of US landfall in 2011, especially in the western Gulf states, we expect two or three landfalling hurricanes this season. This is not particularly unusual, since historically 43 percent of years have had multiple hurricane landfalls. The forecast numbers from our model are quite similar to those prior to the 2008 season, when Hurricanes Dolly, Gustav, and Ike impacted Louisiana and Texas."
Energy traders, insurance professionals and risk managers look to WSI for accurate, timely weather information around the clock and across the globe. The next seasonal forecast update, which will include forecasts for summer temperatures, will be issued on May 24. The next update for the 2011 tropical season will be released on May 25.
About WSI
WSI (Weather Services International) is the world's leading provider of weather-driven business solutions for professionals in the energy, insurance, aviation and media markets, as well as multiple federal and state government agencies. WSI is a member of The Weather Channel Companies and is headquartered in Andover, Massachusetts with offices in Birmingham, England. The Weather Channel Companies are owned by a consortium made up of NBC Universal and the private equity firms The Blackstone Group and Bain Capital. More information about WSI can be found at http://www.wsi.com.
Contact:
Linda Maynard
WSI Corporation
(978) 983-6715
lmaynardwsi.com
Editorial Contact:
Barbara Rudolph
Rudolph Communications, LLC
(781) 229-1811
bjr(at)rudolphcommunications(dot)com
###