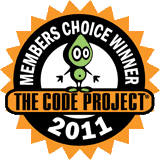 The Code Project is one of the largest independent developer communities online today, so we are extremely proud to receive this award
Pasadena, CA (PRWEB) May 24, 2011
DiscountASP.NET, a global leader in ASP.NET hosting solutions, proudly announces receiving prestigious recognition from The Code Project. DiscountASP.NET was named "Best ASP.NET Hosting Service" in The Code Project's annual member's choice awards for the third consecutive year.
The award winners were announced at a reception proceeding Microsoft's TechEd 2011 conference in Atlanta, Georgia.
"While development needs and platforms change, developers still need quality tools to get the job done. In fact, as platforms diversify, quality tools are more essential than ever before," said Jeff Hadfield, president of The Code Project (USA). "The Code Project Members Choice Awards reflect the diversity and depth of developer tools. Congratulations to the award winners, and to the development community for encouraging innovation and excellence."
The Code Project members were asked to rate their favorite ASP.NET tools, software and services from their catalog and were also polled for their favorite products in a separate poll of finalists sent to randomly selected members. The Code Project editors then compiled the highest rated listings, awarding the highest ranked product in each category. The results reflect what products that developers value most. Members chose which companies or products deserve recognition, based on in-the-field experience.
"The Code Project is one of the largest independent developer communities online today, so we are extremely proud to receive this award and we thank The Code Project member community for all their support." said Takeshi Eto, VP Marketing and Business Development at DiscountASP.NET. "We are committed to continue innovating and providing the community with cutting-edge hosting solutions to meet their needs."
About The Code Project
The Code Project is one of the largest development communities in the world, comprising involved professional developers, development managers, and architects. An industry-leading community since 1999, The Code Project has more than 7.7 million registered members since its inception. Developers worldwide contribute quality, how-to articles about all aspects of development, including Web, mobile, Windows, server, and more. Over 3.8 million developers visit the site each month to access its lively discussion boards and over 32,000 articles, complete with source code and examples. For more information, visit http://www.codeproject.com
About DiscountASP.NET
DiscountASP.NET is an innovative leader in hosting solutions for ASP.NET developers, focused on providing the best value in ASP.NET web hosting and Team Foundation Server hosting. A Microsoft Partner with the Gold Hosting Competency, DiscountASP.NET recently launched TFS hosting in Europe and hosted Urban Turtle scrum tools. As a leader in cutting-edge ASP.NET web hosting, DiscountASP.NET supports the latest Microsoft stack including support for Windows 2008, SQL 2008 R2, ASP.NET 4, MVC 3, Razor View Engine, web deploy and WebMatrix. Through strong word-of-mouth and their commitment to ASP.NET developers, DiscountASP.NET has become the choice for affordable enterprise-class ASP.NET web hosting and TFS hosting. For more information, visit http://www.DiscountASP.NET.
###