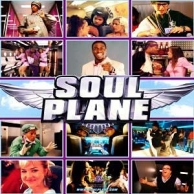 Snoop Dogg and Soul Plane fans will never get an opportunity like this.
Raleigh, NC (PRWEB) May 25, 2011
SongVest, the company that reinvented the music business by offering the ultimate fan collectable -- the songs themselves -- has announced their next auction will feature Snoop Dog title track in the movie Soul Plane.
Bidders on the auction will have the opportunity to bid on 25% or 1% units of the song's royalty stream. The winners of the auction will receive a one of a kind award plaque or certificate, and share in a percentage of the royalties generated by the song.
Soul Plane, a comedy starring Tom Arnold and Kevin Hart, was released by MGM in 2004. The film also received much recognition for it's large cast of musicians including Snoop Dogg, Method Man, Mo'Nique, Lil Jon and The Ying Yang Twins. 14-time Grammy nominated artist Snoop Dogg.
Rhonda Bedikian, CEO of Heavy Harmony Music, is the seller of the song. Heavy Harmony Music has dealt with numerous songs in the music industry including Hanson, Skip Scarborough and currently Ralph Johnson of Earth, Wind and Fire.
The auction will begin on June 11 at 12:00 p.m. and end on June 18 at 3:00 p.m. Fans can register now at http://www.songvest.com/.
Since 2007, SongVest has offered music fans, collectors, and investors the unique opportunity to share the royalties with the writers of their favorite music. Past auctions have included the rights to songs recorded by Aerosmith, Bon Jovi, Carrie Underwood, Ringo Starr, Ozzy Osbourne, and The Monkees.
# # #