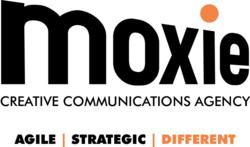 The new Moxie CCA represents a different kind of agency within the corporate communications world – a trusted partner to in-house communications and marketing teams.
Littleton, CO (PRWEB) May 24, 2011
In response to the changing communications needs of organizations navigating today's complex media landscape, Moxie Media Group announced its new positioning as a "pure" creative communications agency. Its refined focus is aimed at developing effective and memorable creative communications campaigns to connect organizations with diverse audiences using multiple media platforms. It has also formally changed its name to Moxie Creative Communications Agency (Moxie CCA), a name which reflects a significant transformation of its mission.
"Traditional advertising or marketing agencies are engaged primarily for their branding and marketing expertise, where their services are geared towards helping clients sell products and services to a specific target demographic," said Mike Schrader, president, Moxie CCA. "While Moxie CCA is called upon to do the same, our clients' communication challenges are increasingly centered on a need to communicate one or more messages to multiple target audiences across multiple communications channels. In these cases, we are helping our clients to determine the best way to communicate to their many constituents and then execute their campaigns accordingly."
The new Moxie CCA represents a different kind of agency within the corporate communications world – a trusted partner to in-house communications and marketing teams. Whether the need is a national commercial campaign, training a workforce on new HR concepts through a corporate video, communicating with shareholders on corporate issues, empowering a sales force with interactive sales presentations, testimonial videos and other sales tools that can be displayed on multiple devices, or motivating employees with inspirational messages from the CEO, Moxie CCA fulfills a growing need for businesses to engage a pure communications partner that can handle these issues from concept to design, production and delivery. And, Moxie CCA does it with the keen understanding of how all content, whether produced as HD video, interactive or web communications, is integrated and delivered across multiple media platforms for maximum impact.
Schrader added, "This need represents a significant opportunity for Moxie CCA to help our clients achieve even greater success. From a services standpoint, we have always been able to produce compelling communications programs and commercials for our clients. Through our new business focus, we are leveraging the proficiency of our staff to manage entire creative communications campaigns under one roof, from working with our clients to set the creative strategy, all the way through creative development, design, production and delivery of the campaign. At Moxie CCA we effectively capture words and pictures in ways that inspire, amaze and motivate audiences. The goal is to provide our clients with better, more efficient service that streamlines their production process and achieves exceptional results."
About Moxie Creative Communications Agency
Moxie CCA is a creative communications agency that fuels its clients' success through integrated strategic communications. Leveraging its accomplished staff and broad technical expertise, the firm collaborates with clients, to develop effective and memorable campaigns featuring high-definition video, web, interactive and print communications. Moxie CCA offers a full spectrum of communication services, from concept through design, production and delivery, using the latest technologies and global platforms. For more information, please visit http://www.moxiecca.com.
###