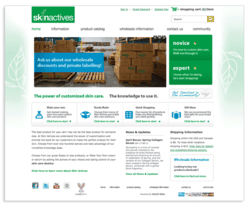 This is the most significant ecommerce site ROCKET MEDIA has ever built, and we're ecstatic with the results.
Gilbert, AZ (PRWEB) May 24, 2011
Arizona based Internet marketing and design firm, ROCKET MEDIA, announces the launch of a new website for Gilbert, Arizona skincare company, Skin Actives Scientific.
Created to improve the overall customer experience, Skin Actives' new ecommerce website offers better solutions for helping consumers find the information and products they are looking for.
"This is the most significant ecommerce site ROCKET MEDIA has ever built, and we're ecstatic with the results," said ROCKET MEDIA CEO, Ben Kalkman. Besides a new design, the more intuitive Skin Actives website features a quick product selection tool and enhanced shopping cart. Both new features simplify the shopping and purchasing process for consumers. ROCKET MEDIA also created an improved means of displaying product details as well as a new community portal page for Skin Actives' savvy shoppers.
"We have a lot of products...and our customers are very highly educated and highly motivated to find the products they need...[These new features] will help customers find what they need, and share their knowledge and experience with each other," explained Jonatan Funtowicz, Director of Operations and Customer Service at Skin Actives Scientific.
ROCKET MEDIA's focus is creative web and Internet marketing solutions, so the opportunity to meet Skin Active's needs was a welcome challenge. "Working with an international company, in a space like ecommerce, while taking advantage of the latest technologies for today's online shoppers, is very exciting," explains Kalkman.
"We are extremely happy with the whole process," said Funtowicz. "The [ROCKET MEDIA] designer[s] were very skilled and took our ideas and expressed them very clearly," he continued. "They did a great job of bringing the website to life."
ROCKET MEDIA is an Internet marketing & creative services firm focusing on website design, Internet marketing, social media and online advertising services.
Skin Actives Scientific supplies skin care actives to home users and small private label firms who wish to design products customized for their own needs.
For more details about ROCKET MEDIA go to http://www.rocketmedia.com.
To view the new Skin Actives Scientific website, go to http://www.skinactives.com.
###