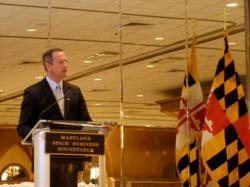 "The first step toward fast-forwarding an emerging technology economy in the region is to articulate and launch this very strategy," said Maurice B. Tosé, chairman and CEO of Annapolis-based TeleCommunication Systems, Inc.
Greenbelt, MD (PRWEB) May 23, 2011
Governor Martin O'Malley today unveiled a bold new initiative to increase the business development and commercialization opportunities of the state's space industry at the Maryland Space Business Roundtable in Greenbelt. Speaking before over 500 members of the Roundtable, the Governor reinforced the O'Malley-Brown Administration's commitment to this vibrant sector and outlined new policy initiatives and investments in Maryland: The Business of Space Science.
"Working side-by-side with our congressional delegation and our 'Space Senator,' Barbara Mikulski, we will pursue program policies to leverage our federal facilities and institutions of science and discovery to unlock the enormous economic and employment potential of Maryland's space sector," Governor O'Malley said. "The breakthroughs and innovations occurring in Maryland at NASA, NOAA, Johns Hopkins, APL and other institutions represent new frontiers for commercialization and business development in areas like carbon monitoring, manufacturing and life sciences."
Joining Governor O'Malley were the state's top public, private and academic leaders including NASA Goddard Space Flight Center Director Rob Strain and Associate Administrator Ed Weiler, MSBR President and Raytheon Scientist Dr. Philip Ardanuy, NOAA's Office of Systems Development Director Gary Davis, Johns Hopkins University President Ronald Daniels, Space Telescope Institute Director Dr. Matt Mountain, Applied Physics Lab Chief Technology Officer John Sommerer, and University of Maryland System Chancellor Dr. Brit Kirwan.
During his remarks, the Governor pledged to create a Space Development office within the Department of Business & Economic Development, establish a space-related business incubator, advocate for a proposed National Center of Climate & Environmental Information and expand manufacturing of satellite instruments and their components.
Governor O'Malley also recognized the importance of NASA's Wallops Flight Facility to Maryland's space science industry and economy. Located on Virginia's Eastern Shore, just five miles from the Maryland border, Wallops has an economic impact of more than $188 million and generates 2,341 jobs for the Lower Eastern Shore region.
"Fifty years after President Kennedy called for our country to send a man to the moon, America is no longer in a space race - we're in a race for our economic future. To win that race we must again work together to out-innovate, out-educate and out-build," said Senator Barbara A. Mikulski. "That's why I fight so hard to invest in Maryland's federal assets like NASA Goddard, NOAA and NIST. I will continue to work with Governor O'Malley in support of Maryland Space Tech, so we can keep leveraging our federal investment to create jobs in space science, space flight and satellite servicing."
Governor O'Malley called for the Space Business Roundtable to work with him to brand the area around NASA Goddard, NOAA's Silver Spring and Suitland campuses, and University of Maryland as the "Climate Corridor" and outlined a four-point plan to:

Exploit and enhance Maryland's leadership in R&D in space and earth science
Commercialize space technologies to create new products, new wealth and new employment
Promote launch activity at Wallops and create jobs on the Eastern Shore
Educate and train Marylanders for the space and earth science sectors
"We applaud Governor O'Malley and the State of Maryland for taking a bold stance to support new exploration and discovery in space and earth science," said Dr. Matt Mountain, Director of Hubble's Space Telescope Science Institute in Baltimore. "Their support can bring together Maryland's world-class scientific assets and entrepreneurial industries to exploit the technological and commercial opportunities which will be the foundation of job growth and Maryland national leadership in the space enterprise."
The Business of Space Science is one in a series of competitive research reports from the Maryland Department of Business and Economic Development. The Department's research and business development teams interviewed 85 individuals at almost 40 organizations and companies to inventory the state's space assets, identify opportunities for business growth and develop policies to support this burgeoning sector.
The space science sector is a powerful engine in Maryland's economy and has the potential to become increasingly so due to the state's federal facilities, universities, research institutions and military installations. The research found that Maryland has the highest concentration of astronomers in the country – 11 times the national average – easily the top state in the nation. According to the Space Foundation's definition, there are nearly 18,000 "space jobs" in Maryland including atmospheric and space scientists, avionics technicians and astronomers. The average annual space science salary is $110,000 – more than double the private sector average salary.
"The first step toward fast-forwarding an emerging technology economy in the region is to articulate and launch this very strategy," said Maurice B. Tosé, chairman and CEO of Annapolis-based TeleCommunication Systems, Inc. (TCS). "Maryland is home to the best and the brightest science and engineering professionals and universities on the planet. This initiative demonstrates how business and government can collaborate to innovate and, in the process, create a robust economic asset for the state."
The Maryland Space Business Roundtable is a professional and networking organization that encourages the growth and development of aerospace-related business in Maryland. The organization contributes to the ongoing effort to retain major projects at Goddard Space Flight Center. MSBR holds monthly events for members to network with invited guests and speakers including prominent political and government leaders and colleagues from more than 70 local companies.
Governor O'Malley first addressed the Space Roundtable two years ago. At that time he pledged to "form a federal facilities advisory board to identify and implement an economic development strategy to exploit and enhance Maryland's leadership in space science and R&D." That board was launched in January 2010 and has been a key contributor to the Business of Space Science report.
Last May, DBED Secretary Christian Johansson attended a meeting of the Roundtable and announced that the Department would immediately launch an assessment of Maryland's space industry. He solicited participation and assistance from members; many of whom were interviewed during the research and attended today's announcement.
"Our journey toward making Maryland the Space Science State begins with the appointment of a Space Advisor – the first step in the creation of the Space Development Authority at DBED," said Secretary Johansson. "Maryland's space science industry offers tremendous opportunity for our state, not only in space exploration and in discovery of the unknown, but also in growing Maryland businesses, creating jobs and expanding the industry. With our partners in the public and private sectors and in academia, the Space Advisor and the Space Development Authority will spearhead this space science initiative."
Maryland: The Business of Space Science
Maryland: The Business of Space Science Report
Maryland: The Business of Space Science Executive Summary
NASA Goddard Space Flight Center
###