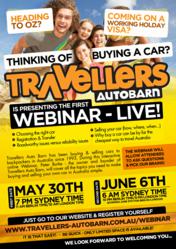 I got the idea after chatting to a Dutch couple in our Sydney showroom. They had just arrived in Australia and bought a car privately but had no idea on registration, insurance, blue slip testing in NSW
Sydney, NSW (PRWEB) May 25, 2011
Backpackers, buying a car in Oz? This is for you!!!
Travellers Auto Barn are to begin offering online "webinar" information sessions during May and June for backpackers and travellers considering buying a vehicle in Australia .
With an ever increasing number of working holiday makers, travellers and backpackers choosing to buy their own vehicle for their Australian holiday it's no surprise that there's an increase in discussions, forums and blogs offering help on that very subject. The range of information out there can be a little daunting and considering that a lot of it is given from the very narrow perspective of one travellers experience it can be a little confusing especially when one blog suggests one thing and another the exact opposite. Add to that the minefield of state rules and regulations surrounding vehicle sales, registration, insurance etc and you'd be forgiven for being a bit overwhelmed by the whole experience.
T.A.B Managing Director, Peter Burke – who will be conducting the sessions - is all too aware of the pitfalls and trials involved in buying, registering, insuring, maintaining and ultimately selling a vehicle for an Australian trip. After nearly 20 years in the business there's very little he hasn't seen.
"The idea of offering information sessions to backpackers thinking about buying a car came to me a few weeks back after I got chatting to a Dutch couple in our Sydney showroom. They had just arrived in Australia and bought a car privately but had no idea on registration, insurance, blue slip testing in NSW or even how to go about changing the car into their name.
I thought what a great idea it would be to be able to offer our experience in the industry to travellers either before they arrive in Australia or at least before they try to navigate the process by themselves. The more information they have before they dive into looking for a car the better and hopefully it will make their trip just that little more enjoyable"
While Travellers Auto Barn have been buying and selling cars in the backpacker industry since 1993 Mr. Burke was quick to add that the idea behind the series of webinars was to better inform travellers before making what is probably their biggest financial decision of their trip.
Topics covered during the sessions will include,

Choosing the right car for your trip
Registration and transfer – State by state around Australia
Roadworthy issues versus reliability issues
Why buying a car can be the cheapest way to see Australia
Selling your car after your trip.
Initially two webinars will be held. The first being on 30th of June at 7pm AEST and the second on June the 6th at 6am AEST (ideally for European customers).
For more information please see http://www.travellers-autobarn.com.au/webinar
###