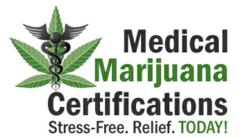 Our doctors provide first rate evaluations to patients suffering from debilitating conditions.
Kingman, AZ (PRWEB) May 27, 2011
As of mid April 2011, qualified patients who have received an Arizona Certification by a qualified doctor can apply for an Az Medical Marijuana ID Card from the state.
Arizona Medical Marijuana Certifications provides these evaluations and is coming to Kingman, Az June 17-18th to the Holiday Inn Express.
The visit will allow prospective Kingman Medical Marijuana patients along with Bullhead City Medical Marijuana and Lake Havasu City Medical Marijuana area patients access to licensed, professional doctors at a convenient location.
With the passing of Prop 203, medical marijuana is now legal in Arizona for qualified patients with debilitating medical conditions. Patients with Cancer, Severe Nausea and Vomiting, Chronic Pain, Severe Muscle Spasms, Glaucoma, Hepatitis, HIV or AIDS, Crohn's Disease, MS or ALS, Cachexia or Wasting Syndrome, or Alzheimer's Agitation may qualify for an Arizona marijuana ID card.
Arizona Medical Marijuana Certifications has established itself as the premier Arizona marijuana evaluation center in the state. With licensed, qualified, and compassionate doctors, Medical Marijuana Certifications provides top notch evaluations for patients.
Prospective patients should call early (855) 294-3227 to sign up as spots will fill up fast for the 2 day event, which will run from 8 a.m. to 8 p.m. both Friday and Saturday June 17-18th. Signing up early will also allow the Center time to obtain, for Free, patients' medical records.
When patients sign up for a certification evaluation at the Event, they will receive the E-Book entitled Medical Marijuana in Arizona – The People Have Spoken. The book is over 40 pages and contains chapters on The Basics of Cannabis, Arizona's Path to Legalizing Medical Marijuana, the Basics of Obtaining an Arizona Medical Marijuana Card, and the latest medical information on how marijuana benefits debilitating conditions.
The Certification Center at the Event will provide the following Free services to patients:

Free ID pictures
Free scanning of documents for the ID Card application
Free Online assistance with the ID Card Application
Arizona Medical Marijuana Certifications wants to make it easy for patients to receive their evaluations. As a requirement in Arizona, patients need to have an in-person examination from a licensed doctor and a review of the past 12 months of medical records for the qualifying condition.
As an added patient benefit, the certification center will obtain patients' medical records for them after the on-line medical record release form is completed.
Said CEO David Greene, MD, "Our mission is to provide first rate evaluations by compassionate, caring, and knowledgeable doctors to patients suffering from debilitating conditions. In such a time of need, we make it convenient and professional. We obtain patient's medical records, provide a comprehensive E-Book on Medical Marijuana, and assist patients for Free through the Online State Application process."
Patients will receive an evaluation expeditiously to help obtain an Arizona Marijuana Card. For an appointment, patients may either call Toll Free (855) 294-3227 or visit the website at http://www.arizonammc.com.
###