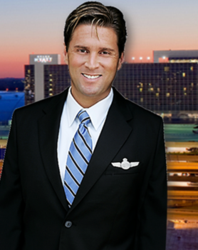 Air travel can be a civilized experience. The right choices take your travel to a much higher level"
Miami, FL (PRWEB) May 26, 2011
In-flight faux pas and an overall decline in airplane manners fuel a great deal of today's airborne anger and anxiety; according to the global authority on the topic of mile high etiquette. Gailen "Sky" David, The Sky Steward, is leading a Jetiquette Tour which has him visiting over 75 cities globally in search of the people, airports, destinations and companies that epitomize "civilized travel". Of course, he also takes notice of "Jetiquette faux pas" he observes on airplanes and in terminals along the way, offering passengers ways to be infinitely more considerate and courteous when traveling.
Cleaning up after oneself in the lavatory, leaving space for others in overhead compartments and being careful not to elbow the person in the next seat are all examples of Jetiquette. This push to propel airplane protocol to loftier heights has many passengers putting down their Kindles and iPads to stand and applaud him. He is not alone in his crusade as millions of gracious travelers have joined with him from around the world.
The Sky Steward, who authors a very popular travel website, has produced a 60-second Lavatory Jetiquette Briefing Video to be shown on-board following the standard safety demo on airline flights. Done with a touch of humor, this is a prototype of videos that he hopes will be soon playing on American airlines and as well as others around the world. "Imagine how far a little courtesy goes on a fully loaded A-380 with 800 passengers on board!", he says.
The Sky Steward appears regularly on national television programs to discuss Jetiquette as well as to offer his expert travel advice including "How to Travel in Jet-Set Style", "Affordable Travel Luxury" and the "Best-in-Travel", including hotels, restaurants, and even the most civilized places to park at the airport. "I like helping travelers to make good choices, not only about how they travel, but where they travel and which companies they select for their trips. Just one right decision can transform an ordinary trip into something fabulously first class!" says The Sky Steward.
Some of his travel favorites from the last leg of his tour are Virgin America's First Class, Kimpton Hotels Vintage Plaza Portland, Todd English's CaVa in New York, The Admirals Club at San Francisco T2 and National Car Rental's Emerald Aisle.
The Sky Steward encourages travelers to join him in the Jetiquette Campaign to make travel a more civilized experience. You can always spot him in any airport carrying his Pan Am Bag and can easily access his travel schedule and more through http://www.dearskysteward.com. Starting in June, his favorite picks will be featured monthly on Gogobot!
About The Sky Steward:
Dear Sky Steward has become one of the fastest growing travel sites on the Internet. The site provides expert opinions regarding Jetiquette®, airlines, airports, hotels, cruises, travel goods and services and more. The Sky Steward is also a member of The Inflight Team
Gailen David, The Sky Steward, is an award winning travel expert and spokesperson. He was presented with the Travel Weekly Magellan Award and serves as a media resource to USA Today, The Wall Street Journal, MSNBC, NPR, Travel Weekly and Fox news among others. He regularly appears as a guest and/or host of national and local television travel segments that offer travelers the best travel products, destinations and tips to better travel.
Gailen is also an expert in etiquette and protocol and a faculty member of the Protocol School of Washington.
His flying career with American Airlines has spanned 23 years in which he served as a purser flight attendant as well as creating many training conferences, videos and recognition programs.
He serves as President of the Board of Directors of Dress for Success Miami and is also a Board Member of Airline Ambassadors International.
877-SKY-STEW (759-7839)
###