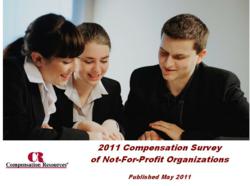 Upper Saddle River, NJ (PRWEB) May 31, 2011
Compensation Resources, Inc. (CRI) has released the results of their Compensation Survey of Not-For-Profit Organizations. This survey, targeted exclusively to tax-exempt organizations, was designed to capture compensation data of positions within a broad range of not-for-profit classifications. This year's survey has been expanded to include additional benchmark positions below the executive tier. Data was collected between November 2010 and February 2011, and results were compiled from survey questions that were developed by Compensation Resources, Inc. and distributed to organizations in all not-for-profit classifications. There were 122 organizations that participated in this study.
Compensation data is reported as of November 1, 2010 in the following dimensions:

Base Salary (Weighted Average, Average, Median, and 25th and 75th percentiles)
Bonus & Incentive
Other Compensation (executive positions)
Deferred Compensation (executive positions)
Nontaxable Benefits (executive positions)
This survey also reports the prevalence of various programs and practices relative to executive compensation, covering annual incentives, long-term incentives, various perquisites, supplemental benefits, and agreements, along with processes relating to staff positions.
For more information or to order the survey, please contact Andrew Sellers at (877) 934-0505 x115 or visit our website at http://www.compensationresources.com.
About Compensation Resources, Inc. (CRI): CRI provides compensation and human resource consulting services to mid- and small-cap public companies, private, family-owned, and closely-held firms, as well as not-for-profit organizations. CRI specializes in executive compensation, sales compensation, pay-for-performance and incentive compensation, performance management programs, and expert witness services.
###