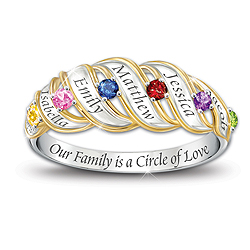 Up to six family names may be engraved on these waves in elegant lettering
Niles, IL (PRWEB) May 27, 2011
Because a mother values her love of family and wants to take it with her everywhere she goes, The Bradford Exchange Online is pleased to offer a unique and expertly handcrafted personalized ring that lets Mom "show off" her own family in style. This exquisite family birthstone ring offers two levels of family personalization to create twice the delight for Mom, while making each ring a custom-made masterpiece.
The design of this fine jewelry exclusive begins with graceful "waves" of solid sterling silver, edged with gleaming 24K-gold plating. Up to six family names may be engraved on these waves in elegant lettering. Then, tucked between the silver waves in secure pronged settings, sparkling birthstones of cubic zirconia - one for each family member - add a second level of personalization to this unusual engraved birthstone ring. But there's even more to this ring.
"When we offer such a high level of personalization in our fine jewelry designs like this ring, we also like to add a little 'something extra'," states a Bradford Exchange Jewelry Division product manager. "And so this birthstone ring for Mom also includes an engraved message inside the ring that reads 'Our Family Is a Circle of Love.' Only the wearer will know the message is there, but because it perfectly sums up what she feels about her family, it will make the ring more meaningful whenever she wears it."
The Bradford Exchange Online offers not only this exceptional personalized ring for Mom, but also a wide selection of other fine jewelry that may be beautifully personalized for free. Since every piece of personalized jewelry is one-of-a-kind, each piece is sure to become a cherished personal treasure and a family keepsake.
The Bradford Exchange Online offers one of the best jewelry guarantees in the e-commerce marketplace, providing returns for up to 120 days and free return shipping. Visit them at http://www.BradfordExchange.com.
###